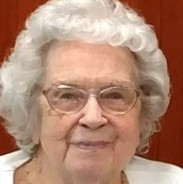 Joan Hudson Jones Creamer, 97, of Salisbury, N.C., and formerly of Mooresville, N.C., passed away on Friday, January 8, 2021, at Trinity Oaks in Salisbury.
She was born on May 2, 1923, in Anderson County, S.C., to the late Harry Winburn Jones Sr. and Emma Hudson Jones. Mrs. Creamer received her Bachelor of Science degree in music from Anderson College. She was a former longtime member of First Baptist Church of Mooresville and recently of First Baptist Church of Salisbury. Mrs. Creamer was the church organist for 45 years and the pianist for the sanctuary choir and youth choir. She was active in the XYZ's and Senior Adult choirs, taught Sunday School, was a Circle leader, and worked with the youth. She was also a member of the Woman's Club in Mooresville.
Mrs. Creamer began her career in 1944 by teaching school in Townville, S.C., and after moving to Mooresville in 1959, she taught music education at Mount Ulla School. She continued her music profession by teaching private lessons for over 30 years and instilling in students the appreciation and love for music. Mrs. Creamer was fortunate to be able to share her piano playing talents and pure joy of playing at Trinity Oaks Sunday Vespers service each week until last year.
In addition to her parents, she was preceded in death by her husband, William Roy Creamer; daughter, Janice Creamer Ikall Swann Howes; brothers, Oren Jones (Sarah), and Harry Winburn Jones Jr. (Mary); brothers- and sister-in-law, Howell and Norma Creamer Palmer, Joe and Sallie Creamer.
She is survived by her daughters, Ann Benson (Fred), Karen Morgan (John), and Meredith Palmer (Mike); grandchildren, Andrew Ikall, Amy Ikall, Beau Benson (LeeAnn), Melissa Benson Meadows (Tim), Elizabeth Heering (Tom), Matt Morgan (Anna), Brooke Morgan, Zach Palmer, Brooks Palmer, Tyler Palmer and Grace Palmer; great grandchildren, Emerson and Cole Morgan, Elijah, Royce and Leo Meadows, Telsa and August Heering, and Lynlee and Reid Benson; and numerous nieces and nephews.
The family wishes to express their heartfelt gratitude to Trinity Oaks Health and Rehab administration, support staff, C Hall staff, Virginia Casey Center Staff and Cindy Henry, who all gave endless care and love to our Mother.
In lieu of flowers, memorials may be made to First Baptist Church Music Ministry, 150 S. Church Street, Mooresville, NC 28115 or Trinity Oaks Health and Rehab, 820 Klumac Road, Salisbury, NC 28114.
Cavin-Cook Funeral Home & Crematory, Mooresville, is serving the Creamer family. Condolences may be made to the family at www.cavin-cook.com.