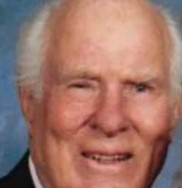 FRANK EDWARD MANGUM, 98, OF MOORESVILLE, N.C., WENT TO BE WITH THE LORD ON JANUARY 9, 2021.
HE WAS BORN MARCH 18, 1922, IN PAGELAND, S.C., THE SON OF JESSE AND INEZ PLYLER MANGUM.
HE GRADUATED FROM PAGELAND HIGH SCHOOL IN 1939 AND LATER MOVED TO KANNAPOLIS, N.C., WHERE HE WORKED IN THE MILLS AND VARIOUS OTHER JOBS UNTIL BEING CALLED FOR SERVICE IN WWII. HE EARNED THE RANK OF SERGEANT IN THE ARMY, SERVED AS AN INSTRUCTOR FOR BASIC TRAINING AND THEN LED A COMBAT SQUAD IN THE EUROPEAN THEATER, SEEING ACTION AT THE BATTLE OF THE BULGE. HE RECEIVED THE PURPLE HEART, DISTINGUISHED UNIT BADGE AND GOOD CONDUCT MEDAL. HE THEN MOVED TO CHARLOTTE, N.C., AND LATER TO MOORESVILLE, WHERE HE LIVED AFTER RETIREMENT FROM THE U.S/ POSTAL SERVICE.
FRANK MARRIED WILMA MAY WIGGINS ON SEPTEMBER 6, 1958, IN FLORENCE, S.C., WITH CLERGY OFFICIATING. THEY HAD ONE SON, RONNIE EDWARD MANGUM.
HE WAS A MEMBER OF TRINITY BAPTIST CHURCH IN MOORESVILLE, WHICH HE AND WILMA HELPED FOUND. THEY ALSO HELPED START OTHER CHURCHS IN THE AREA BUT TRINITY IS THEIR FINAL CHURCH HOME. HE WAS A DEACON, SUNDAY SCHOOL TEACHER AND A ROYAL AMBASSADOR LEADER AT DIFFERENT TIMES IN HIS LIFE. HE ALSO WENT ON MANY MISSION TRIPS CLOSE TO HOME AND OVERSEAS. HE WAS ALSO A MASTER MASON AND SHRINER.
HOBBIES INCLUDED FISHING, HUNTING, BUILDING AND PAINTING, READING, STUDYING AND PRAYING OVER GOD'S WORD. UP UNTIL THE DAY HE COULD NO LONGER SPEAK, HE WOULD CONSTANTLY TELL US HE WAS LIFTING US IN PRAYER.
REMAINING TO CHERISH FRANK'S MEMORY ARE HIS WIFE WILMA; HIS SON RONNIE AND WIFE MELODY ;AND GRANDSON CASEY MANGUM
PRECEDING FRANK IN DEATH WERE HIS PARENTS, JESSE AND INEZ MANGUM; SISTERS GLADYS BEARD AND MARCENE RUSSEL; AND HIS BROTHERS, FLOYD AND BILLY MANGUM.
PRIVATE FAMILY SERVICES ARE BEING HELD.
IN LIEU OF FLOWERS, MEMORIALS CAN BE MADE TO TRINITY BAPTIST CHURCH BUILDING FUND, 221 ERVIN ROAD, MOORESVILLE NC 28117
CAVIN-COOK FUNERAL HOME & CREMATORY IS SERVING THE MANGUM FAMILY. CONDOLENCES MAY BE MADE TO THE FAMILY AT WWW.CAVIN-COOK.COM.