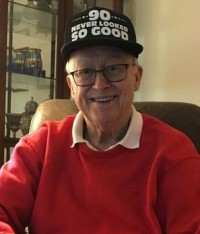 John Cecil Shoemaker, 90, of Statesville, N.C., passed away Tuesday, February 16, 2021, at the Gordon Hospice House.
Mr. Shoemaker was born August 8, 1930, in Scott County, Va., and was the son of the late Benjamin Shoemaker and Velva Arnold Smith.
He was a graduate of Damascus High School in Virginia and served in the U.S. Army at the end of World War II and during the Korean War. After serving his country, he enrolled and graduated from Emory & Henry College in Emory, Va. In 1953, he married Jackie Brooks Shoemaker, who passed away in 2013, and together they raised their family in Hickory, N.C. He worked as the Vice President of Human Resources for Hickory Springs Manufacturing and upon his retirement, they moved to Boone, N.C.
He is survived by two sons, Kent Shoemaker and wife LeeAnn of Friendswood, Texas, and Scott Shoemaker and wife Stacy of Statesville, N.C.; three grandchildren, Adam Shoemaker, Lauren Shoemaker, and Josie Shoemaker; and one brother, Frank Shoemaker.
In addition to his wife, he was preceded in death by one grandson, Justin Shoemaker, and one brother, Lawrence Shoemaker.
A private family service will be held at a later date.
Memorials may be made to the Gordon Hospice House and online condolences may be made to the family at www.troutmanfuneralhome.com.
Troutman Funeral Home is serving the family.