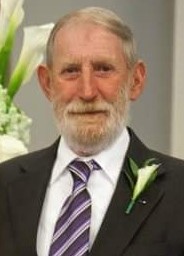 John Halbert Brotherton, 82, of Statesville, N.C., passed away on Sunday, February 7, 2021, at his residence.
Mr. Brotherton was born on July 29, 1939, in Iredell County and was the son of the late John E. and Cleo Sprinkle Brotherton. He attended Central High School and farmed his own land as well as drove for Douglas and Sons Trucking. In 1963, he married Dolores Myers Brotherton, who survives. He was a member of New Prospect Baptist Church.
In addition to his wife, he is survived by his daughters, Susan Brotherton Gatton (Mark) of Statesville, and Debra Brotherton Coffey (Tim) of Sylva; grandchildren, Leigh Ann Coffey, and Caroline Coffey; step grandchildren, Makayla Gatton Marshall (Fred), and Angela J. Dison; step great grandchildren, Ethen Moore, David Johnson Jr., and Alyssa Johnson, sisters, Geraldine B. Ball, Joan B. Forsyth (Lenual), and Ruth B. Williams; brother-in-law, John D. Stevenson; and numerous nieces, nephews, great and great-great nieces and nephews along with many close friends.
He was preceded in death by sister, Gay B. Stevenson, and two sisters in infancy.
A service will be at a later date.
In lieu of flowers, memorials can be made to Central Volunteer Fire Department, 4634 Wilkesboro Highway, Statesville, NC 28625 or Hospice and Palliative Care of Iredell County, 2347 Simonton Road, Statesville, NC 28625 and online condolences may be made to the family at www.troutmanfuneralhome.com.
Troutman Funeral Home is serving the family.