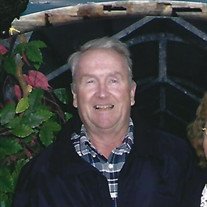 Mr. John Russell Huie, 84, of Olin, N.C., died Sunday, April 25, 2021, at Autumn Care of Statesville, N.C. Born in Iredell County on January 22, 1937, he was a son of the late Cowan Huie and Edna Campbell Huie.
He was a retired educator in public education. He held a Masters Degree from Appalachian State University. He loved his family, community service, gardening and was a happy, friendly neighbor and a loving father and grandfather. He served as secretary and two terms as president of the Ruritan Club. He served as treasurer of the Union Grove Volunteer Fire Department and the Union Grove School P.T.O. He was a Boy Scout master for five years helping five scouts attain the rank of Eagle Scout. He taught public school for 37 years. He taught developmental math and reading.at Mitchell Community College for two years.
Survivors include his wife, the former Mary Carpenter; sons David and Michael (Laura) Huie; and a daughter, Angela Allred (Timothy). Also surviving are a brother, Elmer Huie (Lavonne); a sister, Eloise Riddle (David); five grandchildren; and two great grandchildren.
Graveside services are scheduled for 11 a.m. on Saturday, May 1, 2021, at Winthrop Friends Meeting Cemetery with Pastor Harold Salmons officiating. The body will lie in state in the church sanctuary from 10 to 11 a.m. prior to the service for viewing.
Condolences may be sent online to the family to www.nicholsonfunerals.com. Memorials may be given to Winthrop Friends Meeting, C/O Judy Ritter, 262 Winthrop Road, Harmony, NC 28634 or to Union Grove Volunteer Fire Department, 1994 W. Memorial Highway, Union Grove, NC 28689.
Nicholson Funeral Home is entrusted with the arrangements.