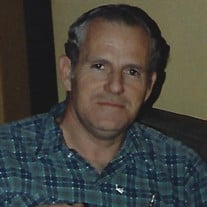 Mr. John William "Jay" McCoy, 81, of Statesville, N.C., died Tuesday, May 25, 2021 at Iredell Memorial Hospital. Born in Iredell County on February 11, 1940, he was a son of the late Omer Fields McCoy and Mary Smith McCoy.
On April12, 1958, he married his wife of over 63 years, Nettie Henderson, who survives.
He was preceded in death by a brother, Jim McCoy, and a sister, Mary Caroline McCoy.
Jay was a member of Bethesda Presbyterian Church and was an electrician for Modern Electric. He and his wife owned and operated the Real McCoy Campground and he enjoyed organizing and managing the Oak Forest Cloggers in years gone by.
In addition to his wife, he is survived by two sons, John Steven McCoy (Terri) and William Todd McCoy; a grandchild, Laura Martin (Brian); and five great grandchildren, Ty, Nolan, Camden, Hudson and Tucker Martin. Also surviving are two brothers, Bill McCoy (Wanda) and Ed McCoy (Connie); a sister-in- law, Dot McCoy; and a brother-in-law, Phillip.
Graveside services are scheduled for 10 a.m. Friday at Bethesda Presbyterian Church Cemetery with Rev. Eric Faust officiating.
Condolences may be sent online to the family to www.nicholsonfunerals.com. For those who prefer, memorials may be given to Bethesda Presbyterian Church.
Nicholson Funeral Home is entrusted with the arrangements.