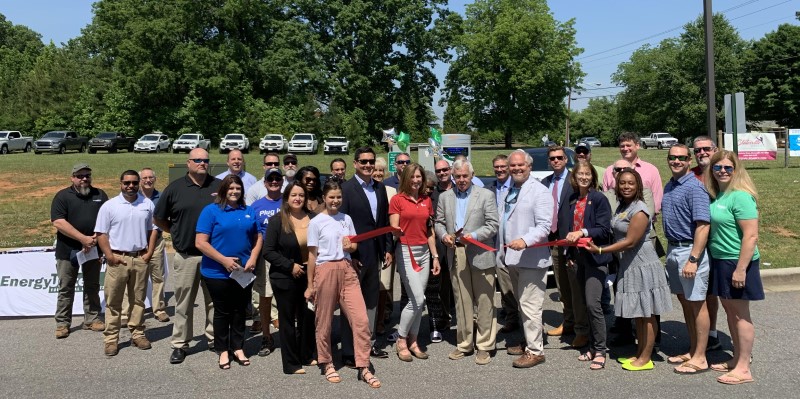 BY BRANDY TEMPLETON
EnergyUnited showcased its new Electric Vehicle Fast-Charging Station on Thursday morning during a ribbon-cutting ceremony in the parking lot of the Banner Drug at at 308 Mocksville Highway.
There are more than 23,000 electric vehicles in North Carolina, and EnergyUnited Electric Membership Cooperative estimates 1,500 members currently drive EVs in the co-op's 19-county footprint, according EnergyUnited Vice President of Energy Services Brett Alkins.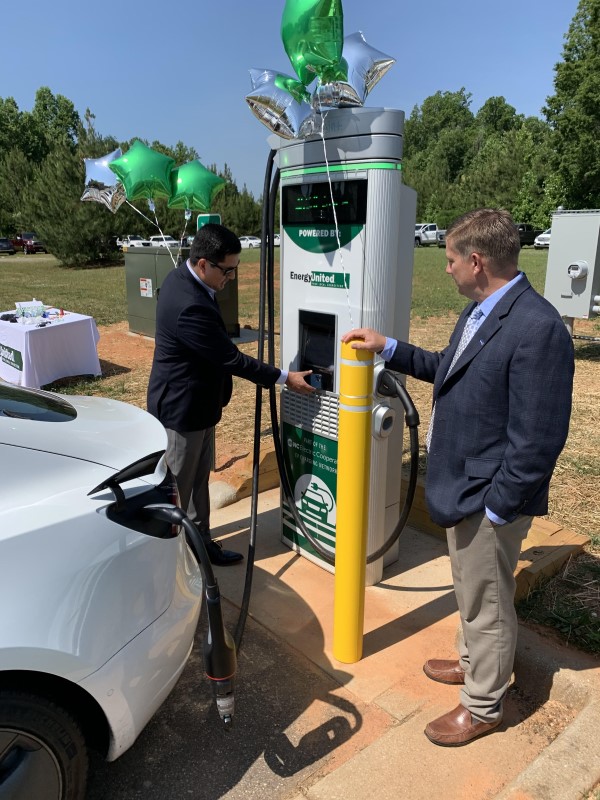 The cost to charge vehicles differs based on size and type due to different battery capacities. However, it's typically 27 cents per kilowatt hour, which averages around $15.
"A Tesla gets 280 miles of range, whereas a Chevy Bolt gets 238," Alkins said.
Customers can download a phone App that shows available charging stations and helps them to reserve a time on their phone. They can use either a charge point account or credit card to pay for service.
"I see more people becoming owners," Alkins said. "The cost of vehicles has come down. There's no oil changes, maintenance or service."
Automakers are planning to roll out more electric vehicles, including SUVs, trucks and motorcycles in the coming years.
"There's such a huge push to go green," Alkins said. "All you have to do for these are change the tires and add windshield fluid."
He said that 80 to 90 percent of these vehicles can be charged at home, but the charging stations are necessary for road trips.
Nikolai Robles, project manager for EnergyUnited, uses the stations for his Tesla.
"They couldn't be any easier to use," he said. "They have both AC and DC power modules. If one should fail, the other one kicks in."
Dr. Max Walser, chairman of the EnergyUnited board, talked about the importance of electric vehicles.
"They're very important," he said. "I'm sure we'll see more and more of these cars running around."
HOME CHARGING STATIONS
For those interested, Energy United is giving a $500 rebate for those who want EV charging stations at their homes.
For more information, visit www.energyunited.com/rebates
Photos