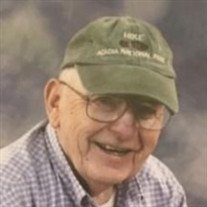 Joseph F. McGrath Jr., 83, beloved father and granddad, formerly of Statesville, N.C., passed away peacefully on April 27, 2021, at Sunrise Assisted Living in Middletown, N.J.
He was born June 28, 1937, in the Bronx, N.Y., the son of the late Joseph F. McGrath Sr. and Margaret McDermott McGrath. He was also preceded in death by his beloved wife, Mary Ellen Lucier McGrath, and daughter, Kelly McGrath.
Joseph proudly served his country in the U.S. Marine Corps as a member of the military police during the Korean War. He then furthered his education, graduating from Bernard Baruch College of Business in New York City. He became a Special Agent with the United States Government and retired after many years of service with the Treasury Department. A man of faith, Joseph was a devoted and active member of St. Philip the Apostle Catholic Church for over 30 years.
In his youth, Joseph won the Bronx Police Athletic League's boxing championship and continued to enjoy sports throughout his life. He enjoyed taking his children and grandchildren to baseball games, playing catch, and watching them participate in sports as they grew older. He also loved music and played the harmonica and piano to entertain his family. Joseph also loved the outdoors and enjoyed family camping trips across the country. He loved his family and adored spending time with his grandchildren, often giving them horsey rides on his lap, tractor rides, taking them fishing or for long walks.
The family patriarch, he always did his best to guide and teach his children and grandchildren, instilling in them faith and discipline, as well as Irish humor and laughter. A loving father, father-in-law, and granddad with a heart of gold, he will be greatly missed.
Left to cherish his memory are his children, Helen McGrath, Joseph McGrath, Chuck McGrath (Josephine), Maureen McGrath (Ashley), and Michael McGrath (Claudette); grandchildren, Sheena, Chucky, Christian, Colin, Joseph, Spencer, Kelly, Ava, Alexa, Martin and Oisin McGrath; two great grandchildren, Xander and Oliver Hixson; and numerous other loving family and friends.
The family will receive friends from 6 until 8 p.m. on Friday, May 7, 2021, at Nicholson Funeral Home in Statesville, N.C. A mass will be held 10 a.m. Saturday, May 8, 2021, at St. Philip of the Apostle Catholic Church, 525 Camden Drive, Statesville, NC 28677. Interment will follow in New Perth ARP Church Cemetery in Troutman, N.C.
Please share memories and condolences with the family at www.nicholsonfunerals.com.
Nicholson Funeral Home is serving the family.