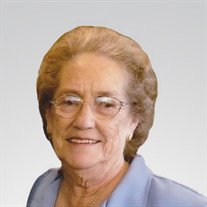 Mrs. Mildred Elizabeth Lawhorne Holestin, 84, of Statesville, N.C., passed away on Saturday, May 1, 2021, at Atrium Health Cabarrus following a period of declining health.
Mrs. Holestin was born in Alleghany County, Va., on February 7, 1937, and was the daughter of the late Walter Lawhorne and Olivia Lipscomb Lawhorne. She was a graduate of Covington High School in Virginia and following high school, she went on to get her certificate as a hairdresser.
On October 10, 1957, she married Kenneth Holestin and together they shared 63 years of marriage before her passing.
Mrs. Holestin worked in retail most of her life, working for Family Dollar and going on to retire from JR's Outlet.
Mrs. Holestin was a devoted Christian. She served Jesus Christ in many aspects of her life. Her and her husband were faithful members for 42 years at the Salvation Army Church and Mrs. Holestin taught Sunday School for 32 years. She and Kenneth were dedicated to raising their five children in the church. For the past 10 years they have been members at Welcome Baptist Church.
Mrs. Holestin loved to work in her flower garden, which she maintained regularly. She also loved to cook, sew, and especially enjoyed word search puzzles. Nothing compared to the love she had for her family. She loved spending time with her grandchildren and great-grandchildren.
In addition to her parents, she was preceded in death by two brothers, Walter Lawhorne and Jesse Lawhorn.
Along with her husband Kenneth, Mrs. Holestin is survived by five children, Ricky Holestin Sr. (Nina), Delores H. Imes, Patricia H. Lackey (Danna), Juanita H. Hunt (Al), and Kenny Holestin (Patsy). She is also survived by 13 grandchildren, Ricky Holestin Jr. (Kayla), Theresa H. Butler (Jeremy), Erin Horne, Trey Peacock, Beth Lackey, Michelle Lackey (Jordan), Alyssa Clark (Mark), Joanne Perez (Michael), John Holestin, Lynzie Holestin, Steven Lackey, Jessica Lackey, and Kelly Buchanan, along with 11 great-grandchildren, Colton and Landon Butler, Kylee and Everly Holestin, Erin Benge, Yasmine Al-Hwietat, Jeremy Harry, Paris Phipps, Kira Clark, Chase Coburn, and Gavin Girgus. She is further survived by a brother, Gene Lawhorne (Becky).
A funeral service to celebrate the life of Mildred Holestin will be conducted at 12 noon on Thursday, May 6, in the Nicholson Funeral Home Chapel with pastors Tommy Jones and Ken Clark officiating. Entombment will follow in the Iredell Memorial Gardens Mausoleum.
The family will visit with friends Wednesday, May 5, from 5:30 until 7:30 p.m.at Nicholson Funeral Home.
Nicholson Funeral Home is serving the family of Mildred Holestin.