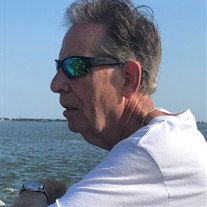 Joseph "Joe" John Bruno, 66, of Mooresville, N.C., passed away on Wednesday, April 14, 2021. He was born on March 5, 1955, in Jersey City, N.J., to the late Delores Templin Bruno and Victor Bruno.
He is survived by his loving wife and best friend of 35 years, Elaine; devoted sons, Jonathan and Justin; brothers-in-law, Tom Guralchuk (Nancy) and Steve Guralchuk (Debbie); and several nieces and nephews. He had a special place in his heart for his Golden Retrievers, Shiloh and Scout and Carley, who crossed the Rainbow Bridge in February. He was preceded in death by his brother-in-law and partner in crime, Pete Guralchuk.
Joe loved being at the beach with his family, visiting local breweries and watching the many different crime series on TV. He was an avid sports fan, and the Miami Dolphins were his favorite team. He enjoyed listening to music, especially Bob Seger and Billy Joel. Back in New Jersey, he was "Coach Joe" to baseball, basketball and soccer players and always focused on TEAM (Together Everyone Accomplishes More).
Joe worked at the Jersey City Municipal Utilities Authority before retiring in 2010 and moving to Mooresville. He enjoyed his time working for ICATS, which gave him an opportunity to meet people, share stories, and enjoy camaraderie.
The family will receive friends on Thursday, April 22, from 6 to 8 p.m. with a prayer service at 7 p.m. at Cavin-Cook Funeral Home, Mooresville. Funeral services will be held at 11 a.m. on Friday, April 23, 2021, at St. Therese Catholic Church, 217 Brawley School Road, Mooresville with Father Mark Lawlor officiating.
In lieu of flowers, memorials may be made to Golden Retriever Rescue Club of Charlotte,
P.O. Box 471931 Charlotte, NC 28247-1931 and American Cancer Society, 1901 Brunswick Avenue #100, Charlotte, NC 28207.
Cavin-Cook Funeral Home, Mooresville, is serving the Bruno family. Condolences may be made to the family at www.cavin-cook.com.