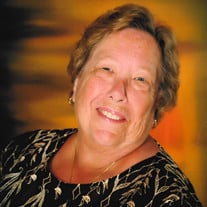 Judith Louise Sachs, 73, died peacefully at home surrounded by her family on Thursday, August 12, 2021.
She was born October, 29, 1947, in Philadelphia, Pa., to Stuart William Brader and M. Louise Jones Brader.
She was preceded in death by her parents and her brother, Jeffrey William.
Her husband of 52 years, Jeffrey William Sachs; son, Kenneth William Sachs, daughter, Karen Louise Sachs Vaughn; and and five grandchildren, Jacob Ryan Vaughn, Robert "Bo" Stuart Vaughn, Makenna Louise Vaughn, Noah William Sachs, and Emma Elin Sachs will miss her but know that she is flying with the cardinals.
She was a proud member and treasurer of the Mary Slocombe Chapter of the Daughters of the American Revolution.
Funeral services will be held at 1:30 p.m. on Friday, August 20, 2021, at St. Mark's Lutheran Church with Rev. Dave Keck officiating. The family will receive friends from 5 to 7 p.m. on Thursday, August 19, 2021, at Cavin-Cook Funeral Home.
In lieu of flowers, contributions in Judith's name may be made to The Columbarium Fund at St. Mark's Lutheran Church, 454 Fieldstone Road, Mooresville, NC 28115.
Cavin-Cook Funeral Home, Mooresville, is serving the Sachs family. Condolences may be made to the family at www.cavin-cook.com.