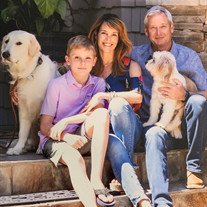 Karen "Kerry" Saintsing Puckett, 54, of Mooresville, N.C., passed away on Tuesday, April 27, 2021. She was born on November 22, 1966, in Gettysburg, Pa., to Tommy Saintsing and the late Sandye Saintsing.
Kerry loved fishing and movie nights with Josh and Steve. She enjoyed being active outdoors, riding bikes, taking walks on the beach, sunsets, and hiking in the mountains. She loved animals, especially her dogs.
She loved her family and friends and will be greatly missed.
In addition to her father, she is survived by her loving husband, Steve Puckett; son, Josh Puckett; sisters, Shelley Gray (Bob) and Chris Garrett (Scott); nieces and nephews, Jordan Gray Howard, Evan Gray, Kelly Nagel and her son Luke, Molly Garrett, Chap Chapman, and Jaye Chapman.
A Celebration of Life will be held at a later date.
In lieu of flowers, memorials may be made to The Dana Farber Cancer Institute, 450 Brookline Avenue, Boston, MA 02215.
Cavin-Cook Funeral Home, Mooresville, is serving the Puckett family. Condolences may be made to the family at www.cavin-cook.com.