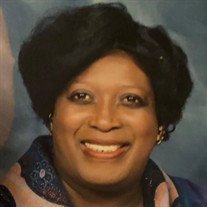 Shirley Ruth Thomas Little, 81, of Statesville, N.C., passed away Monday, April 26, 2021, at Maple Leaf Health Care. She was born Monday, October 16, 1939, in Iredell County to the late Ruth Elizabeth Thomas.
After the passing of her mother, Shirley was raised by her late Uncle and Aunt, John and Mary Magaline Thomas. She was a member of Logan United Presbyterian Church and retired from Tyson Foods in Wilkesboro as an Assistant Line Drawer.
Shirley was preceded in death by one brother, John W. Thomas Jr., and one sister, Mary Elizabeth Thomas.
Shirley is survived by five sons, Jeffery Little, Mark Thomas (Dianna), and Richard Kevin Thomas, all of Statesville, Nelson Thomas of Ohio, and Harvey Linney of Statesville; five daughters, Monica Jean Little Taylor (Christopher) of Claremont, Shelia Thomas Lewis (Dwayne) of Charlotte, and Carolyn Linney and Rhona Williams (Tim), both of Statesville, and Salina Moose of Outer Banks, N.C.; one brother, Gilbert Thomas of Statesville; one sister, Myrtle (Sis) Thomas of Scotts, twenty-three grandchildren, Timothy, Kyisha, Kristey, Isaiah, Zoe, Brittany, Alontra, Lexis, Xavier, Faizon, Lashay, Dre, Maliah, Thian, Saniyah, Amyah, Janayah, Gavin, Layvih, Jatana, Brandon, Acasia, Corey, and Layla; fifteen great grandchildren, Keylei, Jace, Kitana, Kalaya, Paris, Aniyah, Alaisha, Ariane, Jakor, Kaydence, Kingston, Cuban, Tiana, Madalyn, and Mia.
A Graveside Service will be conducted at 2 p.m. on Sunday, May 2, 2021, in the Logan United Presbyterian Church Cemetery. Rev. Kay Zigler will officiate. There will be no formal visitation. The body will lie in state from 1:30 to 5 p.m. on Saturday, May 1, 2021, at Chapman Funeral Home.
Chapman Funeral Home is serving the family of Shirley Thomas Little.