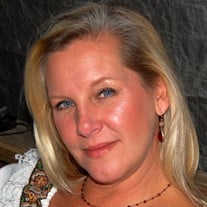 Retired Suffolk County police officer Karilyn Ann Drago (formally McLoughlin), 59, of Sayville, N.Y., was called home on August 7, 2021, after a long and courageous battle with cancer. She died peacefully at home in the arms of her husband William and daughter Caitrin. In addition to her husband and daughter, she leaves behind parents Marilyn and Anthony, brother and sister Anthony and Colleen, niece and nephew Ashley and Ethan, and grandson Declan.
A Long Island native, Karilyn was a beach lover and spent a lot of time with her toes in the sand. The beaches and restaurants of Long Island's south shore and Fire Island were some of her favorite places. She loved to cook and prepared an impressive dinner including hors d'oeuvres every Saturday night.
Karilyn graduated from Connetquot High School in 1980 and planned a career in medicine. After she earned a bachelor's degree in biology from State University of New York in New Paltz in 1985, her plans took an unexpected turn when at the suggestion of her father she took the Suffolk County police
exam and became a police officer, a job she was very proud of. Karilyn retired in 2009 after 20 years on the job and with new found time on her hands took up knitting and became more active in her local parish at Saint John Nepomucene in Bohemia.
Knitting became a passion and after a few years of practice she was turning out gloves, scarfs, and sweaters that turned heads wherever she went. At Saint John, Karilyn was a lector and lay Eucharistic minister. After completing a three-year course with the Pastoral Formation Institute, she ran the
Women's Spiritual Growth group for two years following. Her work in that role was admired and touched many lives.
Karilyn continued to knit and remained active at St. John until moving to North Carolina in March of this year to be closer to family. Unfortunately it was about this time her cancer became untreatable and then ultimately took her from us.
Karilyn was pure in heart and lived an honest life. Her depth of faith, kindness, and generosity is hard to match, yet inspiring. Although her place in heaven is untimely, it is well deserved. She will be missed by many.
Funeral services will be held at 12 noon on Thursday, August 12, 2021, at St. Therese Catholic Church, Mooresville. Burial will follow the service at Glenwood Memorial Park.
The family will receive friends on Wednesday, August 11, 2021, at Cavin-Cook Funeral Home from 6 to 8 p.m.
Cavin-Cook funeral Home, Mooresville, is serving the Drago family. Condolences may be made to the family at www.cavin-cook.com.