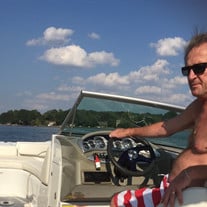 Robert A. Cella, 68, of Mooresville, N.C., passed away Friday, August 6, 2021.
He was born December 26, 1952, to Ettore and Virginia Brown Cella. Robert was an engineer who retired from IBM. He was a resident of Mooresville since 1995 and enjoyed boating, cooking gourmet meals, and spending time with family and friends. He was always the life of the party.
Left to cherish his memory are his loving family, wife Barbara Chabola Cella; children, Michelle (Brian) Kubis, Kevin (Courtney) Cella, and Carolyn (Fabrice) Raharomanana; beloved grandchildren, Charlotte and Madeleine Kubis and Keegan Cella; and siblings, Christine Dowd and Diane Schrag.
Robert was preceded in death by his parents and his brothers, Albert and Stephan Cella.
The family will receive friends on Friday, August 13, from 5 to 8 p.m. with a prayer service at 7:30 p.m. at Cavin-Cook Funeral Home. A Mass will be held at 1 p.m. on Saturday, August 14, at St. Therese Catholic Church with Rev. Mark Lawlor officiating.
Those wishing to give a memorial are asked to consider St. Therese Catholic Church Poor Box.
Cavin-Cook Funeral Home & Crematory, Mooresville, is serving the Cella family. Condolences may be made to the family at http://www.cavin-cook.comwww.cavin-cook.com.