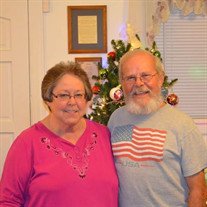 Kay S. Mash of Statesville, N.C., passed away Thursday, February 11, 2021, and her husband, Robert "Wayne" Mash passed away Saturday, February 13, 2021, at Davis Regional Medical Center.
Kay, 71, was born in Iredell County on July 4, 1949. She was a daughter of the late Cliff Sloan and Louise Little Sloan.
Kay loved her family and enjoyed keeping children in her care. She enjoyed baking, cooking and earlier in life enjoyed fishing with her family. She was an inspiration to all, the best mother-in-law in the world and dearly loved her grandchildren and great grandchildren.
Wayne, 78, was born in Wilkes County on August 13, 1942. He was a son of the late Mont Mash and Clara Mash. Wayne was also preceded in death by his brother, Edward Mash.
He was a veteran of the U.S. Army and retired from Lowe's Distribution Center. He enjoyed golf, bowling and playing with his grandchildren and great grandchildren. He was a hard worker and a good provider.
Survivors include their two sons, Chad Mash (Loretta) and Robbie Mash (Alesha); three grandchildren, Alex (Steven), Ethan (Hayley) and Jaden (Josh); and 14 great-grandchildren.
Kay is also survived by her two brothers, Wilford Sloan and Stephen Sloan (Anna); and a sister, Brenda Dobson.
Wayne is also survived by two brothers, Gilbert (Pete) Mash and Edward Mash; and four sisters, Mildred Pharr, Nellie Parsons, Loraine Crawford (Lonnie) and Nona Mash.
Graveside services for Kay and Wayne are scheduled for 2 p.m. Thursday, February 18, at Iredell Memorial Gardens with Dr. J.B. Parker Jr. officiating.
Condolences may be sent online to the family at www.nicholsonfunerals.com. Memorials may be made to the National Kidney Foundation of N.C., 933 Louise Avenue # 101B, Charlotte, N.C. 28204.
Nicholson Funeral Home is entrusted with the arrangements.