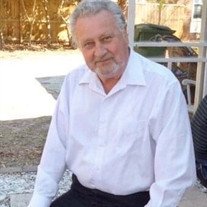 Kenneth Ray Chavers, 85, of Mooresville, N.C., passed away on Friday, April 2, 2021, at his residence. He was born on February 3, 1936, in Charlotte, N.C.
Mr. Chavers was a veteran serving in the U.S. Army. He enjoyed grilling, building, fishing, horse shoes, and boxing. He loved laughing and spending time with his family. Mr. Chavers was a great husband, father, grandfather, friend, mentor, teacher, and person.
In addition to his parents, he was preceded in death by his wife, Anne Wright Chavers; sister, Lou Chavers; and brother, Don Chavers.
He is survived by his children, Joy Chavers, Brandon Chavers (Priscilla), Wayne Strupe (Cheryl); grandchildren, Brittany, Madeline, Jaylin, Nolan, Logan, Jessica, and Lisa; and great grandchildren, Darian and Niomi.
The family will receive friends on Wednesday, April 7, from 10 to 11 a.m. with a service following at 11 a.m. at Cavin-Cook Funeral Home Chapel with Rev. John Miles officiating. Burial will follow the service at Forest Lawn West in Charlotte.
Cavin-Cook Funeral Home & Crematory, Mooresville, is serving the Chavers family. Condolences may be made to the family at www.cavin-cook.com.