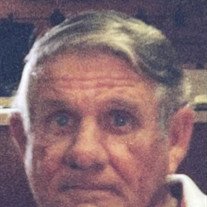 James Harold Jones was an eighth generation local native who was born in Mt. Mourne on March 5, 1942. He was the son of the late Rufus Moore Jones and Annie Lou Gordon Jones. He passed away on Friday, April 2, 2021. He lived most of his life in Mooresville with his loving wife of 56 years, Patricia Clary Jones.
He was preceded in death by brother Bill Jones of Mooresville, brother F.E. "Gene" Jones of Mooresville, brother Clyde Jones of Mooresville, brother Ralph Jones of Troutman, sister Lois Mayhew of Concord and sister Johnsie Fink of Kannapolis.
He is survived by daughter Karen Jones Thomas (Martin) of Huntersville, son Harold Wayne Jones of Mooresville, grandsons Ryan and Brandon Thomas of Huntersville, sister Margie Delton of Las Vegas, sister Carol Linker (Thad) of Mooresville, and sister Doris Mattice (Bob) of Mooresville. He is also survived by a great many loving nieces and nephews.
He served in the United States Army. Upon leaving the Army, he worked through a varied large scale construction career projects for many years. He then entered into family business with the first being the well-known 1109 Grocery on Highway 21 in Mooresville. Later, he started the popular Jones Farmstead Nursery on Brawley School Road.
A Memorial service will be held at 6 p.m. on Tuesday, April 6, at Cavin-Cook Funeral Home Chapel with Eddie Karriker officiating.
In lieu of flowers, the family asks that donations please go to the Serenity House in Mooresville, 110 Centre Church Road, Mooresville, NC 28117 (704-664-2004). They took care of him in his final week and a half as if he were a King, and they took just as much care of the rest of the family as they did our dad!
Cavin-Cook Funeral Home & Crematory, Mooresville, is serving the Jones family. Condolences may be made to the family at www.cavin-cook.com.