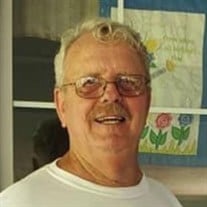 Larry Clinton Barton, 67, of Statesville, N.C., passed away peacefully on September 15, 2021, at Iredell Memorial Hospital. He was born March 5, 1954, in Belaire, Md., and was the son of the late Fred Clinton Barton and Hattie Elaine Barker Barton.
Larry was devoted to his family, loved spending time with them, especially celebrating all the holidays and having huge cookouts. He was a mentor to his son and grandchildren by taking them on numerous hunting trips through the years. Larry could fix anything and enjoyed building things for the home, working on cars and doing yardwork around the house. He was always there to listen to his family members and give advice, and he had a huge heart.
Left to cherish his memory are his devoted wife of 48 years, Susan Edwards Barton; children, Chris Barton and wife Idoma, Cindy Ralston and husband Richard, Michelle Rogers and husband Rob, and Stacy Barton; fifteen grandchildren; three great grandchildren, all of whom he loved dearly; brothers, Steve Barton and Tom Barton (Jan); sisters, Annie Sheets (Kenneth), Sandy Cox (Richard) and Susan Hornbarger (George); canine companions, Bailey and Lucky; and numerous other loving family and friends.
A funeral service will be held at 2 p.m. on Monday, September 20, 2021, at Horizon Church, 316 Signal Hill Drive, Statesville, N.C. The family will receive friends one hour prior to the service at the church. Interment will follow at Iredell Memorial Gardens in Statesville, N.C.
Nicholson Funeral Home is assisting the family.