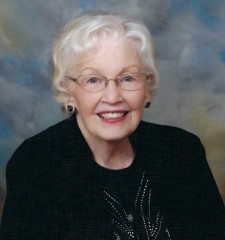 On Friday, October 8, 2021, Lois Efird James left her earthly home and entered the gates of Heaven. She was the daughter of Carl Wertz and Anna Bell Williams Efird and was married to Max Ralston James Sr., who preceded her in death in December 2003.
Lois was the valedictorian of the Cool Spring High School Class of 1950. She received a business scholarship to Mitchell College before her employment with Madison Tours and Farmers & Merchants Bank (now known as Bank of America). It was during her employment with the Iredell County Veteran Service Office for Veterans' Affairs that she met Max James, to whom she was married on September 11, 1955. Upon her marriage, she transferred her membership from Broad Street United Methodist Church to First Baptist Church of Statesville, where she remained a member until her passing.
In 1957 Lois and Max moved to Olin, N.C., and established their family farm. It was in this home that they welcomed their three children. During her time as a homemaker, Lois also pursued her desire to become a teacher by attending Lenoir-Rhyne College (now University) and graduating with her teaching degree in 1969. Her teaching career spanned 27 years exclusively at Harmony Elementary School until her retirement in 1992. Never has a former student ever expressed anything but love and admiration for her, always stating that she was their favorite teacher.
Lois always demonstrated the importance of serving her profession and her community. She was a charter member of the Gamma Alpha Chapter of the teachers' sorority Alpha Delta Kappa. She was an active member of the Statesville Woman's Club. She served on the Board of Directors for the Carolina Dogwood Committee and supported the Miss Statesville Scholarship Committee as a judge, chaperone, and interview coach. Lois accumulated 20 years of service on the Iredell County Industrial Facilities and Pollution Control Financing Authority. For many years, Lois also contributed to the Farm Journal as a test cook.
For over 17 years, Lois served on and chaired the wedding committee at First Baptist Church of Statesville. Having directed over 200 weddings, she was able to help many couples get off to a smooth start.
Lois remained active well into her 80s in various activities such as line dancing, traveling, playing and hosting Bridge parties, and attending performances of both the symphony and community theater. Lois will always be remembered for her love of a good joke and her infectious laughter.
In addition to her parents and husband, Lois was predeceased by her siblings, Alice E. Griffin, Lester Efird, and Herman Efird.
Those left to cherish her memory are her children, Sandra James (Terry Shook), Jeanne James Wright, and Max James Jr.(Kelley); grandchildren, Tanner Wright (Candace), Tera W. Sargent (John), and Anna James (Logan Hardy); great-grandchildren, Scarlett Sargent, Scottie Sargent, Adriana Massardo, and Giovanni Massardo; sister Elsie E. Brown (JW); and numerous cousins, nieces, and nephews.
The family would also like to recognize, in deep appreciation, the care given to Lois in her final days by Judy Blackwelder and the staff of healthcare professionals and social workers of the Gordon Hospice House.
A private graveside burial will be held October 24, 2021, prior to a visitation at the family farm at 450 Tabor Road from 12 to 3 p.m. A celebration of her life will be held in the spring of 2022 at a time and location to be determined.
In lieu of flowers, memorials to the Gordon Hospice House or First Baptist Church are greatly appreciated.
Condolences may be left at www.bunchjohnsonfuneralhome.com.
Bunch-Johnson Funeral Home is honored to be serving the James family.