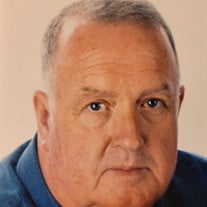 Richard Ray Speaks, 81, passed away on October 11, 2021, after an extended illness. Richard was born at home on October 16, 1939, the second youngest of eight siblings, to Robert and Susie Speaks of West Jefferson, N.C. He graduated from Beaver Creek High School in 1957. Following high school, Richard was assigned to Co. 703d Maint Bn 3d Inf Div in the U.S. Army. He was honorably discharged after spending three years as a Spc. 5. Afterward he continued working for Delta Airlines as an aircraft mechanic for over 30 years, with most of his career in Charlotte.
Richard was preceded in death by his parents, Robert and Susie Speaks; sisters, Ruth Dugas, Laura Ashley, and Ruby Matthews; and brothers, Edward Speaks and JR Speaks.
Richard is survived by his loving bride of 56 years, Linda of Mooresville; his eldest son, Greg, and wife Melinda of Lowell; grandchildren, Brittney, Justin and Gregory; great-grandchildren, Brody, Lola and Landon; son, Steve, and wife Debby of Mooresville; grandchildren, Sam and Mary; and dearly devoted daughter, Caryn, of the home.
Richard was a loving and devoted husband, father, grandfather and great-grandfather and also devoted to his fur babies, Annie and Pepper. After retirement from Delta, Richard could be found fiddling in his garage, woodworking or just tinkering around.
He also volunteered for Mount Mourne Volunteer Fire Department for 20 years and was assistant chief. He spent many nights fighting fire and fixing BBQ.
Visitation for family and friends will be on Thursday, October 14, from 5 to 7 p.m. at Cavin-Cook Funeral Home. Services will be at 7 p.m. in the Chapel of Cavin-Cook Funeral Home with Rev. John Stevenson and Rev. John Duvall officiating. Burial will be on Friday, October 15, at 11 a.m. at Mountlawn Memorial Park, 196 Fan Key Road, North Wilkesboro, N.C.
In lieu of flowers, the Speaks family is asking that donations be made to Richard's most loved causes, the Wounded Warrior Project, St. Jude, ASPCA, and Hospice & Palliative Care of Iredell County.
Cavin-Cook Funeral Home & Crematory, Mooresville, is serving the Speaks family. Condolences may be made to the family at www.cavin-cook.com.