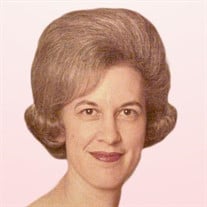 Mrs. Magdalene Bell McLelland, R.N., 87, died Tuesday, October 19, 2021, at the John F. Keever Jr. Solace Center in Asheville, N.C. Born on August 30, 1934, in Wilkes County, N.C., she was a daughter of the late Charles W. Bell and Pearl Baldwin Bell.
Mrs. McLelland received her R.N. at the Davis Hospital School of Nursing and was a head floor nurse there for several years. She then taught the Health Occupations Class at West Iredell High School for over 30 years. She enjoyed gardening, travel and had a keen eye for architecture, enjoying building projects on mountain homes. She loved Christmas decorating and watching her grandchildren participate in sports.
Survivors include her son, Dr. John McLelland and his wife Karin; a sister, Rose Soots; and two grandchildren, Graham and Penelope McLelland.
Services celebrating Magdalene's life will be conducted at 3 p.m. Sunday, October 24, at Nicholson Funeral Home with Heather Besoiu, Funeral Celebrant, officiating. The family will greet friends at the funeral home for one hour prior to the service and burial will follow in Oakwood Cemetery.
Condolences may be sent online to www.nicholsonfunerals.com. In lieu of flowers, memorials may be given to HOSA-Future Health Professionals, 548 Silicon Drive, Suite 101, Southlake, TX 76092 or you can donate online at hosa.org.
Nicholson Funeral Home is entrusted with the arrangements.