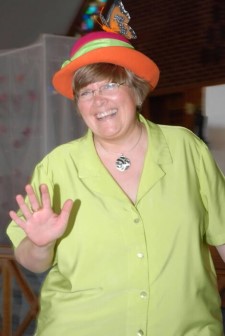 Marcia "Melanie" Vaughn, 58, of Statesville, N.C., transitioned to new life on Sunday, July 25, 2021 at the Gordon Hospice House.
Melanie was born June 29, 1963, in Mt. Airy, N.C., and was the daughter of the late Charles Sidney Vaughn and Maryette Brown Bost, who survives of Statesville. She was a graduate of Statesville High School and Pfeiffer University and was the director of Christian Education at Pleasant Hill UMC, Providence UMC and director of Children and Youth at St. James UMC. She also worked as a program assistant at the Iredell Museums and was a member of Broad Street UMC in Statesville.
In addition to her mother, Melanie is survived by her daughter, Johanna Ahmad Hage-Hassan, and future son-in-love, Tyler McNeely of Charlotte; step-father, Allen Bost of Statesville; sister, Mary "Michelle" Vaughn Day of Deep Run, N.C.; two brothers, Charles "Mark" Vaughn (Sherrie) of Rocky Point, N.C., and Christopher "Michael" Vaughn (Connie) of Leland, N.C.; bonus brother, Devin Day; step-brother, Jonathon Sharpe; step-sister, Catherine S. Pursley; and an honorary grandson, Silas Hunt McNeely.
Melanie is further survived by several aunts and uncles, Betty Jo V. Mills (Rick), Barbara Vaughn, Pat Brown Joyner, and Jane Brown Hincemon; nieces and nephews, Sarah Bottoms (Charlie), Grace Wittkofsky (Tyler), Valeria Hazelwood, Destiny Vaughn, and Elias, Jedidiah and Skyler Day; several cousins, Nikki, Paige, Robyn, Greg, Chris, Mollie, Tracy, Jamie, Chad, and Dax; great nieces and nephews, Harli, Trenton, Brian, Cali Mae, Ayden, and Jaxon; honorary nieces and nephews, Sarah Plisko Davis, and Skylar Davis; and honorary great nieces and nephews, Eden-Rose, Charles-William and Finlay-Harper Davis.
Melanie was the definition of agape love. Each individual who had the pleasure of encountering her love immediately became part of her life. She made sure she knew you and your story—and she remembered every part of it. She was a connector of people, a teacher, a human typewriter, a creator, a friend to all, a champion of those who had lost their way, and a mother to not just her own daughter, but to all of her "kids." She found exceptional joy in a church, a thrift store, in giving to others and being surrounded by children and family. Melanie always celebrated the temporary and encouraged us to remember that everyone has a story. You will see her in every butterfly and in every kind gesture from one human to another. The best way to honor her life and continue her legacy is to be more like Melanie—find the good in everyone and everything just as she did.
In addition to her father, Melanie was preceded in death by an aunt, Brenda Vaughn Moore; an uncle, Jerry Vaughn; and a nephew, Christian Young.
The family would like to give a special thanks to Sandy Harthan Devoid, Tamra Corriher Hicks, Joe Hamby, the staff at the Gordon Hospice House and countless others for their love and support.
Her celebration of life will be held at 1 p.m. on Saturday, July 31, 2021, at Broad Street United Methodist Church in Statesville, NC. The family will visit with friends following the service.
In lieu of flowers, memorials may be made to the People Helping People Scholarship Fund, In memory of Melanie Vaughn or to Broad Street United Methodist Church.
Troutman Funeral Home is serving the family.