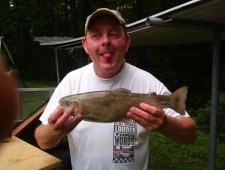 Claude Allen Queen, 70, of Statesville, N.C., entered his heavenly home on Sunday, July 25, 2021, from Iredell Memorial Hospital in Statesville.
Allen was born on May 22, 1951 in Wilkes County, N.C. He was the son of the late Virginia Lee Queen
Allen attended West Wilkes High School. He retired after 32 years as an Telecommunications Tech of Tyson Foods. He enjoyed gardening and fishing. He was a member of the Church of Christ
Allen leaves behind to cherish his memory a loving wife Sheila Jardin; son, Michael Queen (Deanna) of Statesville; and daughter, Nicole Jacobs (Craig) of Junction City, Kan.; grandchildren, Caleb Queen of Youngstown, Ohio, Noah Queen of Cullowhee, N.C., and Madison Jacobs of Junction City, Kan.; brothers, Roger Queen (Maxine) and Dolan Queen (Debbie), both of North Wilkesboro; sisters, Cindy Moretz (Mark), Patricia Gregory (Dennis), Jeanette Canter(Mark), and Jeannie Beshears, all of North Wilkesboro, and Maxine Dolan (Don) of Huntersville; and several nieces and nephews.
Allen had requested a private graveside service that will take place on Friday, July 30, 2021, at 11 a.m. at Oakwood Cemetery in Statesville.
In lieu of flowers the family requested donations be made in his honor to the American Diabetes Foundation.
Reavis Funeral Home is serving the family.