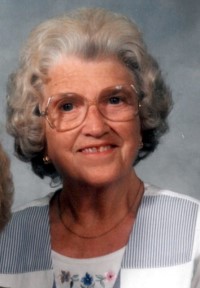 Margaret "Helen" Cline Little of Statesville, N.C., passed away April 6, 2021, following a period of declining health. A woman deeply loved by her large and close-knit family, Helen was born in 1925 and would have reached 96 years of age on April 19. The daughter of Major Foil and Edith Johnson Cline, and one of six children, Helen married Raymond Durant Little on Christmas Eve of 1943. The happy and devoted couple raised three children.
Helen enjoyed working outside the home, and she continued working part time after her retirement. A member of Chapel Hill United Methodist Church throughout her life, Helen participated in the United Methodist Women's group, sang alto in the church choir, and was active in her Sunday School class and the church's Bible studies. Appreciated as an excellent cook and baker, she could always be found in the church kitchen helping prepare the semi-annual chicken pie suppers held by the UMW. Her dishes were also in much demand at church fellowship covered-dish meals, especially her desserts. A hospital volunteer, Helen was happy to give of her time providing comfort and cheer to patients and their families.
Helen had many hobbies, and her family members and friends received lovely crocheted and cross-stitched gifts from her over the years. She enjoyed gardening and spending time outside, including exercising by walking through the neighborhood with her sister Polly and sister-in-law Lillian. All of her family was happy and grateful to be recipients of her time and love, and also of her delicious apple pies and other baked treats. Once Helen's grandchildren and great-grandchildren began arriving, they quickly became the source of her greatest pride and joy. Throughout her life, two of her favorite things were fishing and spending time at the beach with her family. Many precious hours were passed doing both, searching for sea shells and sharing those times with them.
Helen was predeceased by her parents; husband Raymond; daughter Dianne Little Freeze; sister Betty and brother-in-law Wayne Pope; sister Pauline Cline Hollar; brother Charles and sister-in-law Lillian Yarnall Cline; brother Glenn and sister-in-law Carolita Summers Cline; and brother David and sister-in-law Mary Ellen Kirby Cline.
She is survived by her daughter Jane and son-in-law Ronnie Elmore, and her son Dale and daughter-in-law Carol Snow Little. Also surviving are her grandchildren, Natalie E. Lundy, Darren Elmore, Alex Little, and Kevin Little; great-grandchildren Olivia Elmore, Darren Elmore Jr., Evan Lundy, and numerous nieces, nephews and cousins.
A graveside service at Iredell Memorial Park, 2304 Shelton Avenue, Statesville, N.C., will be held on Monday, April 12, 2021, at 1 p.m. with the Rev. Gervase Hitch officiating. A memorial service for Helen will be held at a later date at Chapel Hill United Methodist Church.
Special thanks is expressed by Helen's family to Hospice & Palliative Care of Iredell County for the care provided to her. In lieu of flowers, the family would be grateful for memorials for Helen made to the "Sit-to-Stand Lift Fund," Gordon Hospice House, 2347 Simonton Rosd, Statesville, NC 28625 or to Chapel Hill United Methodist Church, 109 Chapel Hill Lane, Statesville, NC 28677.
Condolences may be sent to the family online at http://www.bunchjohnsonfuneralhome.com.
Bunch-Johnson Funeral Home is honored to be entrusted with the care of Mrs. Little and her family.