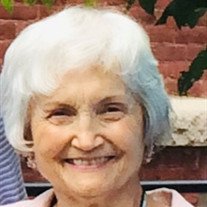 Edna Carolyn Mott Morrow, 86, of Mooresville, N.C., devoted wife, loving mother and caring friend, died on April 5, 2021. She was born January 9, 1935, in Mt. Mourne, NC, to the late William Walter Mott and Edna Vivian Douglas Mott.
Carolyn was a devoted wife to her husband of 64 years, William F. Morrow Jr. (Bill). She was a strong, fiercely determined woman who was involved in the community and cared for her three children, Jeff, Terry and Megan.
A graduate of Presbyterian Hospital Nursing School, Class 1956, Carolyn worked at the VA Hospital and Lowrance Hospital as a surgery nurse until she retired to become a full time mother. Carolyn enjoyed playing bridge, attending garden club and cooking. She was a member of First Presbyterian Church in Mooresville, Moonrakers Garden Club and Mooresville Garden Club and Wednesday Afternoon Bridge Divas.
In addition to her parents, she was preceded in death by her brother, William W. Mott Jr., and sister-in-law, Barbara Atkins Mott.
She is survived by her husband, William F. Morrow Jr. (Bill); children, Jeff Morrow and wife Joanne Morrow, Terry Morrow and wife Peggy Eurman, and Megan Morrow; grandchildren, Zak Morrow and wife Anne, Ben Morrow, Erin Morrow, Ryan Lynch, Nolan Lynch and Alexis Lynch; and great-grandchild, Kalyee Morrow.
Memorial Service will be held at a later date.
In lieu of flowers, memorials may be made to First Presbyterian Church Mooresville, Missionary Fund, 249 W. McLelland Avenue, Mooresville, NC 28115.
Cavin-Cook Funeral Home & Crematory, Mooresville, is serving the Morrow family. Condolences may be made to the family at www.cavin-cook.com.