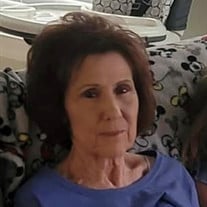 Martha Current Sherrill, 75, of Mooresville, N.C., passed away on Saturday, November 20, 2021, at Atrium Health Carolina Medical Center surrounded by her loving family.
She was born on July 17, 1946, in Mooresville to the late Clay and Nessie Karriker Current. Mrs. Sherrill was a 1964 graduate of Troutman High School. She worked most of her career at Troutman Industries and spent some time working in the office in the furniture business. Before ending her career, she worked at Food Lion and the health department in Mooresville. Mrs. Sherrill enjoyed growing flowers in her garden, watching HGTV, and keeping her great grandchildren.
In addition to her parents, she was preceded in death by her son, Clay Petrea; and stepson, Jason Sherrill.
She is survived by her husband of 23 years, Robert L. Sherrill; daughter, Lisa G. Holshouser and husband Dwayne; stepsons, Josh Sherrill and wife Helen, Jeremy Sherrill and wife Tammy, and Robbie Sherrill; stepdaughter, Elizabeth Sherrill; sisters, Carolyn Petrea and husband Pete, and Linda Knott and husband Darrell; grandsons, Joey Holshouser and wife Ashleigh, and Jacob Holshouser; and great grandchildren, Austyn and Cohen Holshouser.
The family will receive friends on Saturday, November 27, from 12 to 2 p.m. with a service following at 2 p.m. at Heritage House of Cavin-Cook Funeral Home with Rev. Scott Eanes officiating.
Cavin-Cook Funeral Home & Crematory, Mooresville, is serving the Sherrill family. Condolences may be made to the family at www.cavin-cook.com.