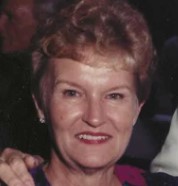 Mary Anne Brawley, born March 3, 1935, passed away at home, surrounded by her family on January 15, 2021. She was preceded in death by her husband of 47 years, Robert Dan Brawley Sr. She was the daughter of the late Forney Blue Patton and Catherine O'Connor Patton of Montgomery, Ala.
Mary was the second of seven children. Her siblings were the late Tom Patton of Joppa, Md.; Helen Hadden of Galveston, Texas; Juanita Webb of Wetumpka, Ala; the late Bill Patton of Hamilton Mill, Ga.; Carolyn Bradberry of Auburn, Ala.; and the late Cathy Gatrell of Montgomery, Ala.
Mary Anne worked briefly in Washington, D.C., for the FBI, meeting the love of her life, Bob. They eloped and lived in Virginia, North Carolina, South Carolina and Florida before settling in Atlanta, Ga., to finish raising their family. She worked for Decatur Federal for many years as a mortgage processor before retiring, and was a devoted wife, mother, grandmother, and the ultimate caregiver — taking care of Bob for 16 years during his battle with Parkinson's Disease and cancer.
She enjoyed time with her family, boating on Lake Lanier, exploring in the RV with Bob, listening to John Denver and Frank Sinatra, gardening, sewing, reading, and cooking.
Mary Anne is survived by a large, happy, thriving family, the best legacy you can leave, including children, Valerie Brawley Smith (Chuck) of Battle Ground, Wash.; Robert Steven Brawley (Cindy) of Statesville, N.C.; Robert Dan Brawley Jr. (Tammy) of Douglasville, Ga.; and Kimberly Anne Brawley of Washougal, Wash.; her grandchildren, Luke Smith (Merissa), Jesse Smith (Deedee) and Matt Smith (Colleen); Lindsay Samson (Phil), John Brawley (Brianna); Steven Brawley; and Amelia Brawley (fiancé Kris Roberts); and her great-grandchildren, Penelope, Wiley, Adair, Elliot, Lola and Jude.
A funeral service will be held on Sunday, January 17, 2021, at 3 p.m. in the Chapel of Nicholson Funeral Home with Pastor James Lewis officiating. The service will be live streamed at Nicholson Funeral Home website.
Mary Anne's wishes are to be buried in Daytona Beach, Fla., with her husband Bob's ashes. In lieu of flowers, please send donations to the American Parkinson's Disease Association in honor of Mary Anne and caregivers like her.
Nicholson Funeral Home is honored to be serving the Brawley Family.