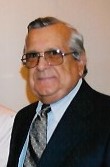 Melvin Troutman, 96, passed away peacefully at Gordon Hospice House on April 18, 2021. The funeral service will be held on Thursday, April 22, at 11 a.m. at St. John's Lutheran Church. Viewing and visitation will be prior to the service from 10 to 10:45 a.m. in the front of the church. The family will gather for burial with full Naval Honors at Oakwood Cemetery after the service.
Melvin was born on October 5, 1924, the fourth of six children to Sam C. and Marie Troutman. He learned love of family and developed a strong work ethic during his youth. Having lived through the Great Depression and World War II, he knew the value of a dollar and to this day never threw anything away as it may be good for something one day. He was a very creative person and always loved figuring out how things worked. His children never worried when something broke as their Dad could always fix it. Melvin graduated from Cool Springs High School, where he met Mae Cartner. Upon graduating, he enlisted in the U.S. Navy and served in the South Pacific on an LCT. He considered this service to be a great honor and privilege and often shared how this time was a positive experience in his life. Upon his discharge from the Navy, he married Mae on December 7, 1946, a loving union that lasted nearly 66 years until Mae passed away in August of 2012.
Once Melvin returned from the war, he worked at Morrison Furniture and Fixture Company, where his dad worked. He learned to build furniture, then worked in the drafting room detailing fixtures, and then began designing and selling to customers throughout the Eastern United States. When Morrisons closed, he and two other partners established Statesville Furniture and Fixture Company, which operated successfully for over 35 years until the three retired and sold the business. Melvin used the strong work ethic developed early in life in his business and always treated customers and employees with respect and fairness.
Melvin's creative mind was always working, and he eventually started painting and doing more creative projects. In the last few weeks, he was telling us about how as an artist he wanted to capture a feeling so that anyone who saw a piece he did would understand the message he was trying to send with his work. He often sketched what he was working on in his mind on the backs of envelopes. He has little drawings of things everywhere, always with keen detail. His family is blessed to have his many pieces of handmade furniture and pieces of art. Melvin also enjoyed playing golf, especially with family members and good friends.
Faith and family were so important to Melvin and Mae. Melvin was a lifelong member of St. John's Lutheran Church, where he worked diligently over the years, serving on many committees and chairing church council several times. Their two children, Karen (Mickey) Norris and Kendall (Karen) Troutman could not have had better examples for their lives. Melvin loved his grandchildren, Amy (Wesley) Carter, Tara (Rob) Hughes, Jennifer (Chanan) Cole, Heather (Andrew) Pappa, Davis and Kelsey Troutman, and they all loved him back. When the great grandchildren came along, that love continued to grow for Avery and Jake Carter, Addie and Ryan Hughes, Sully and Banks Cole, and Hudson and Camden Pappa. The family beach trip is still to this day the favorite week of the year for everyone. In addition to these family members, Melvin is survived by one sister, Lib Leatherwood.
The family would like to thank Lori Brown, who cared for Mae before her passing and for Melvin since 2012, allowing him to stay at home just where he wanted to be.
Melvin was a man of many talents and his love was deep. He touched many lives, he ran the good race, he fought the good fight, he passed along many words of wisdom, and he left this world a better place.
Memorials for Melvin may be made to St. John's Lutheran Church or to the Gordon Hospice House, which served both Mae and Melvin so lovingly during their last days.
Troutman Funeral Home is serving the family.