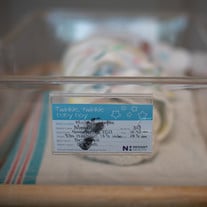 An angel opened up the Book of Life and wrote down my baby's birth. Then she whispered as she closed the book, "He's too beautiful for earth."
Michael Wayne Hardin Jr., infant son of Michael and Megan Sawyer Hardin, was adopted by angels on November 15, 2021.
Baby Michael was preceded in death by his paternal grandmother, Debra Hardin; and great-grandparents, Phil and Mary Shook and Carol Sawyer.
In addition to his parents, Baby Michael is survived by his brothers, Caleb and Samuel Hardin; maternal grandparents, Sherry Shook and Tim Sawyer; paternal grandfather, Gary Hardin; great-grandmothers, Hildred Sawyer and Helen Seals; uncle, David Sawyer; and numerous other relatives.
A funeral will be held Monday, November 29, 2021, at 2 p.m. at Liberty Baptist Church in Mooresville, N.C., with the Rev. Eddie Graham officiating. Burial will follow in the church cemetery. The family will receive friends following the services.
In lieu of flowers, memorial contributions can be made to Liberty Baptist Church, 171 Johnson Dairy Road, Mooresville, NC 28115.
Cavin-Cook Funeral Home & Crematory, Mooresville, is serving the Hardin family. Condolences may be made to the family at www.cavin-cook.com.