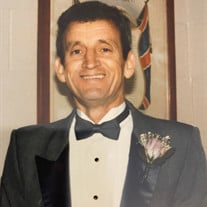 God healed Parks Bell Martin of his physical limits on earth on Friday, September 17, 2021. He was promoted to the Heavenly choir with praise and song.
Parks left to love and cherish his life, a family he loved and cared for in the way God taught him: Louise Thompson Martin, his love of 61 years; daughter who will carry him with her forever, Cindy and son-in-law, Randy Wiggins; grandsons he loved, Troy, Cody, and GW Martin; great grandchildren who brightened his smile by entering the room, Brooke, Austin, and Natalie Martin; and daughter-in-law whom he appreciated her love and support, Alisha Ahuna. He also leaves to cherish memories of him his sister, Annette Hinson and brother-in-law Jerry; and many special nieces and nephews. Parks leaves an extended family at Shearer Presbyterian Church, the place he worshipped for most of the 85 years he walked in faith.
Summer golf outings, mowing the grass, and having an occasional milkshake were the things Parks loved along with being a regular at the Waffle House. He never passed by a fried apple pie or funnel cake.
Parks served in the U.S. Army's tank division. After retiring from the U.S. Postal Service, he enjoyed the friendship of co-workers on the golf course. He loved his brother Joe Howard, who called often and prayed for him in the final chapter of life.
Welcoming Parks through the gates of Heaven were his son, Timothy William Martin; mother and father, Ruby Nell and George Martin; brother, Abbott Martin and sister-in-law Ina Martin. What a joyous reunion.
The family will receive friends on Sunday, September 19, from 5 to 6 p.m. with a service following at 6 p.m. at Shearer Presbyterian Church with Rev. Dr. Stephen Stout officiating. Burial will follow the service in the church cemetery.
In lieu of flowers, please say a prayer for Louise and the boys. Parks was a caregiver for Louise and the rock the boys could always turn too.
Memorials can also be made to the American Heart Association, 401 Hawthorne Lane, Suite 110-287, Charlotte, NC 28204 or www.heart.org, or The Michael J. Fox Foundation, Parkinson's Research, P.O. Box 5014, Hagerstown, MD 21741-5014, or www.michaeljfox.org.
Cavin-Cook Funeral Home & Crematory, Mooresville, is serving the Martin family. Condolences may be made to the family at www.cavin-cook.com.