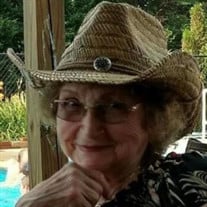 Patricia "Pat" Willard Lyle, 84, of Statesville, N.C., passed away peacefully at home on July 26, 2021.
Born in Massachusetts in October of 1936, she was the daughter of the late S. James Willard and Sarah Willard McCarthy.
She was preceded in death by her loving husband of 60 years, John K. Lyle; eldest son Jeffrey; and her siblings, Jeanne Hamilton and Robert Wayne Willard.
Pat was well known for her creativity, inventions, wood working and helping everyone with projects. Pat was a proverbial encyclopedia of "how to" knowledge. She tackled everything from wedding cakes and bridesmaid's gowns to recovering car seats. Her home is filled with furniture and cabinetry that she designed and built.
Those left to cherish her memory are her children, Sharon and David Eddy of Connecticut, Michael Lyle and Cris of Georgia, Karen Lyle of North Carolina, Kevin Lyle and Jeannie of North Carolina, Kathleen and Sean Goodman of North Carolina and Jennifer and Mark DeSantis of Massachusetts, as well as her beloved niece, Katherine Hamilton Wilson.
She also leaves behind 17 grandchildren, 11 great-grandchildren, and sisters-in law, Marilyn Lyle and Millie Willard. Additionally, Pat leaves behind her treasured Golden Retriever, Angel. She was loved dearly and will be missed.
A Funeral Mass will be held Thursday, August 5, 2021, at 11 a.m. at Nicholson Funeral Home Chapel with Father Thomas Kessler officiating. Burial will follow in the Oakwood Cemetery.
In lieu of flowers the family requests that donations be given to the charity of their choice. Fond memories and condolences may be left at www.nicholsonfunerals.com.
Nicholson Funeral Home is entrusted with the arrangements for the Lyle family.