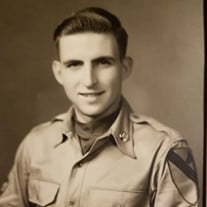 This is the story of Millard "Sal" Charles Wood.
Millard was a wonderful man who was loved, is missed, and will always be cherished. Millard's story starts on October 19, 1934, when he came into this world in Cicero, N.Y. He was born to two loving and hardworking parents, Clarence and Ella Wood. He grew up on Railroad Street, as he stated on the "other side of the tracks" in Brewerton, N.Y. (The armpit of the earth). He was the middle child with two siblings, Kenny was the oldest and Nancy the youngest. As a child and then teen, he loved spending his time with his siblings, especially Nancy whom he felt a need to always take care of and protect. He also enjoyed playing sports, swimming, driving fast cars and chasing even faster women. He attended State University of New York (SUNY) at Morrisville, where he obtained an Associate's degree in Applied Science majoring in Automotive Technology
After graduation in 1954 he joined the Army, became a Wheeled Vehicle Mechanic and was shipped off to Sendai, Japan during the Korean War. He parted ways with the military in 1974, after 20 years of service and ranking up to sergeant in the Air National Guard and Reserve of the United States Air Force. He had a passion for patriotism and was a proud American for the rest of his days. In his late 20s he met Susan Gridley, a stunningly beautiful, funny and intelligent woman, and he knew that he had finally met his match when she slid up next to him that night in the car. They fell madly in love and never looked back. Within three years they started a family, complete with sons Michael Randolph Wood and followed two years later by Peter William Wood. As a family, they loved spending time camping at Southwick State Park, Selkirk State Park, Rainbow Shores and a lot of other places. He taught his two boys to swim and fish. Being a strong and hardworking father was of the utmost importance to Millard, and he certainly did not disappoint when it came to wholeheartedly loving his family. He also loved being a grandparent (Pap) to his beautiful grandchildren, telling them unforgettable stories, teaching them to fish and making them his amazing blueberry pancakes.
Millard is survived by his sons, Michael and wife Wanda, and Peter and wife Robin; grandchildren Ryan and wife Cheryle, Shannon, Christopher and wife Samantha, Alexandria and husband Skylar, Gabriel, Devin and wife Peighton, Kahlan and husband Carlos, Jaiden, Nathan and Ashley; great grand children Landon, Christopher, Claire, Cameron, Colton, Sawyer, Mateo and Price; sister Nancy and husband Neal Scott of Arizona; and many Nieces and Nephews.
He was preceded in passing by his loving wife Susan Carol Wood, brother Kenneth Wood and his parents Clarence and Ella.
The family is at peace knowing Millard is finally back where he's missed every single day for the last 10 years — back in the arms of the love of his life, Susan, whom he had been married to for 49 years before her passing in 2011. He's telling her all about each and every one of the kids, grandkids and great grandkids and he couldn't wait to tell her all the stories she missed.
"It's A Wood Thing."
There are no funeral services in lieu there will be a celebration of life by family as per his wishes.
Cavin-Cook Funeral Home and Crematory, Mooresville, is serving the family.