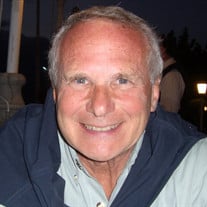 Paul W. Streeter, 75, of Mooresville, N.C., passed away on Monday, September 13, 2021. He was born on March 15, 1946, in Battle Creek, Mich., to the late Kenneth and Winnifred Streeter.
Born and raised in Michigan, he attended high school in Parma and graduated from Western Michigan University in Kalamazoo.
Paul started his career with Armstrong World Industries in the management training program and went on to work for several Fortune 500 companies before starting his own business in 1986. Roz joined him in 1991 and together they ran their business until selling it in 2006.
Paul was well known for his tireless energy, work ethic, love of spreadsheets, and for his desire to make each day count both in his work and social life. In retirement, Paul divided his time between volunteering, playing sports, (tennis, pickleball, horseback riding and skiing), traveling, and spending time with family and friends.
A sermon by former Davidson United Methodist Church minister Rev. James Howell in the early 1990s deeply touched Paul and Roz and ignited a commitment and love for volunteer work. Starting as regular Saturday volunteers with Our Towns Habitat, Paul then took the lead on several DUMC-sponsored houses and served on the Our Towns Habitat Board. This led to mission trips to Nicaragua and Guatemala, cementing his love and admiration for the Mayan communities.
Paul came home from each mission trip feeling the people he had met and worked with had taught and given him so much more than he had given them. Habitat's model of a "hand up" rather than a "hand out" had truly resonated; he saw how bright and hard working the people in the rural communities wer. Yet because of where they were born, they had not been afforded the same opportunities as those he had enjoyed and taken for granted growing up. Paul wanted to help them fulfill their dreams as he had been able to fulfill his so they too could provide a better life for their families. With his partner John Quinn, they founded the Sinapi Foundation, their focus being to help transfer cycles of poverty into cycles of prosperity by partnering with Guatemalan NGOs focused on job creation, education, medical and dental care, and safe housing. This work was a huge passion of his until his health prevented him from making trips into the rural communities.
An endoscopy in 2010 revealed the early onset of bile duct cancer and a liver transplant became Paul's best chance of surviving this deadly disease. In December 2012, Roz and Paul received the best Christmas gift ever, the gift of life from an anonymous donor. They have both felt so incredibly blessed and grateful to have been given nine extra years thanks to God's guidance of the incredible team at the Mayo Clinic combined with all the heartfelt love and prayers that surrounded them from family and friends who have continued to love and support them and make this roller coaster of a health journey one heck of a ride!!
Paul is survived by his wife, Rosalind (Roz) Streeter, along with two siblings, Joan Moss (Al) and George Streeter (Jan), his three daughters, Tamilyn Derryberry (Thomas Kelly), Cristina Batkin (Drew), and Tia Streeter, ten grandchildren, Thomas Derryberry (Beth), Amanda Blair (Hunter), Jonathan Paul Derryberry, Bailey Branning (Kyle), Timothy Derryberry, James Derryberry, Jake Hutchins, Riley Gordon, Maggie Gordon, and Grayson Hutchins; as well as three great-grandchildren, Charley Kathryn, Henry and Eleanor Derryberry; his cousin, Dick Binder (Verne); a multitude of nieces and nephews; and his beloved, crazy pound puppy terrier, Finnegan.
A celebration of life service will be held at DUMC on September 25, at 2 p.m.
In lieu of flowers, the family requests donations be sent to Serenity House (in honor of their caring and supportive Hospice Nurse, Kyle) at 110 Centre Church Road, Mooresville, NC 28117.
Cavin-Cook Funeral Home & Crematory, Mooresville, is serving the Streeter family. Condolences may be made to the family at www.cavin-cook.com.