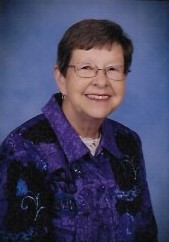 Phyllis Warren Edmiston of Statesville, N.C., passed away peacefully at the Gordon Hospice House on June 9, 2021, at the age of 80.
Phyllis was preceded in death by her husband, Richard Allison Edmiston. She is survived by her children, Wes Edmiston (Michelle) of Troutman, Amy Sayess (Steve) of Cornelius, N.C., and Alison Edmiston of Statesville; and grandchildren, Megan Edmiston of Huntersville, N.C., and Emily Edmiston of Troutman. Special thanks to Phyllis' dear friend and caregiver, Betty Stewart of Statesville.
Phyllis was born in Durham County, N.C., on May 28, 1941, to Willie Raymond Warren and Lorine Searls Warren. She graduated Valedictorian from Southern High School in Durham, N.C. She earned a B.S. degree in Elementary Education and an M.A. degree in Library Science from Appalachian State Teacher's College. While at Appalachian, she met and married her husband, Richard Edmiston.
After graduating from college, Phyllis worked as an elementary school teacher and librarian. Most of her early adult years were spent raising her three children. She received her Real Estate License and worked with her husband Richard at Edmiston Realty. She owned and managed the Soft Touch Dairy Bar in Statesville, N.C. Phyllis enjoyed serving her community and worked with HELP Ministries, volunteering her time delivering meals.
Phyllis was a devoted and faithful member of New Perth ARP Church in Troutman, N.C., for more than 45 years. Her church family was one of the most important parts of her life. She was a dedicated member and teacher of the Westminster Sunday School Class. She was very active with the music and enjoyed playing the piano, singing in the choir and playing handbells. She served as the church librarian for more than 30 years.
Phyllis enjoyed spending time and socializing with her family and friends, especially her granddaughters. She was very outgoing and never met a stranger. She was selfless and enjoyed helping others. Phyllis also enjoyed sewing and quilting.
Graveside funeral services will be held at 11 a.m. on Saturday, June 12, 2021, at the New Perth ARP Church Cemetery. The family will receive friends following the graveside service.
Memorials may be made to HELP Ministries of Troutman, Gordon Hospice House and New Perth ARP Church.
Troutman Funeral Home is serving the family of Phyllis Edmiston.