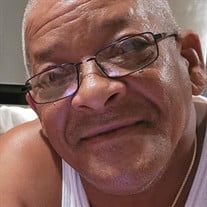 Porfirio Louis Garcia-Alicea, 65, who was lovingly known as "Shorty," passed away August 3, 2021, at Iredell Memorial Hospital.
He was born March 24, 1956, in Manhattan, N.Y., the son of Matilda Alicea and Porfirio Garcia Pabon. He was always fun and loving to be around and as a child he was seen as highly active and very respectful of others. He graduated from Springville High School in Queens, N.Y., and then later moved to the Bronx, where he grew up. He enjoyed sports but was known for his love of basketball and handball. Even though he was short he was fast and could jump really high. If he was invited to a family function, he was the life of the party. Shorty knew how to get everyone's attention with a few words, "I'm Cooking!" and soon it would turn into a family gathering. From dinner, to spades, to music, to drinks and watching the sunrise and set where he would enjoy his family and friends as only he knew how.
Left to cherish his memory are his parents, Matilde Alicea and Porfirio Pabon; wife Kimberly Sinclair; children, Yvonne Garcia, Louie Garcia, Jonathan Garcia, Jesse Garcia, Joseph Garcia, Nicolas Mills, and Tiana Mills; three stepchildren, grandchildren, Carlos Ivan Calaff Jr., Jaden Daniel Calaff, Louie Garcia Jr., Amya Lee Casanova Garcia, Jonathan Luis Garcia Jr., and Joseph Michael Garcia Jr.; six step grandchildren; siblings, Raymond Garcia, Edwin Garcia, Reynaldo Garcia, Eddie Garcia, Matilde Garcia, Sonia Garcia and Birma Pabon; six step siblings; and a very large extended family of nieces, nephews and more.
The family will receive friends from 6:30 until 9:30 p.m. on Saturday, August 7, 2021, at Nicholson Funeral Home. A memorial service will be held at 3 p.m. on Sunday, August 8, 2021, at Nicholson Funeral Home Chapel, 135 E. Front Street, Statesville, NC 28677.
Though we were not ready for you to leave, we understand that your father needed his son back; your light will always shine through all of those you touched. From teaching your best skill of cooking to arguing over games that we played like spades, dominos, etc., we will continue your great legacy through your children, grandchildren and your soon to be great granddaughter. As you watch over us, we will say to you, sleep in peace our guardian angel.
Nicholson Funeral Home is serving the family.