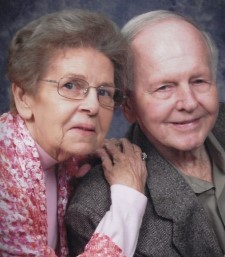 Henry Ray Neel, 83, of Troutman, N.C., passed away on Monday, February 22, 2021, and his wife Dora Faye Crouch Neel, 82, passed away on Tuesday, February 23, 2021.
Ray was born on December 9, 1937, in Iredell County. He was the son of the late A Y Jr. and Mary Bethel Howard Neel. He was a long-time volunteer at Troutman Fire Department, Dixie Wheelers Square Dance Club and was a member of the Troutman Masonic Lodge.
Faye was born on February 26, 1938, in Iredell County. She was the daughter of the late Henry Crouch and Lottie Isabel Shumaker Crouch. She also was a long-time volunteer at Troutman Fire Department Auxiliary and Dixie Wheelers Square Dance.
Ray and Faye were married on April 6, 1958, and together were members at Christ Boulevard United Methodist Church.
Together they are survived by three daughters, Lorri Neel Johnston of Statesville, Cindy Neel of Troutman, and Stacey Reynolds (Eric) of Statesville; three granddaughters, Angelina Johnston, Alexandra Johnston, and Joelle Reynolds; two grandsons, Jacob Johnston, Luke Reynolds; and one great grandson, Oliver Johnston.
Ray is also survived by two brothers, Jack Neel (Christine) of Troutman and Eddie Neel (Kathy) of Mooresville; and one sister, Jane Laney (Larry) of Mooresville.
Faye is also survived by two sisters, Billie Burrell of Statesville and Evelyn Johnson of Dalton, Ga.
Mr. and Mrs. Neel will lie in state from 12 to 5 p.m. and a visitation will be held from 7 to 9 p.m. at Troutman Funeral Home on Friday, February 26, 2021, with a funeral service on Saturday at Western Avenue Baptist Church at 2 p.m. with Rev. Larry Thompson and Rev. Joe Parker officiating. A private family burial will be held at Iredell Memorial Gardens. Please follow all COVID-19 protocols if attending the visitation or funeral.
In lieu of flowers memorials can be made to Hospice and Palliative Care of Iredell County, 2347 Simonton Road, Statesville, NC 28625. Online condolences can be made to the family at www.troutmanfuneralhome.com.
Troutman Funeral Home is serving the family.