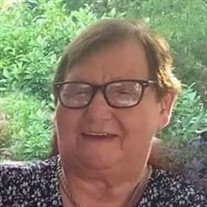 Rebecca Lynne Reid Asprogiannis, 75, passed away on March 18, 2021 at her home. She was born September 22, 1945, in Harmony, N.C., the daughter of the late Carl Hugh Reid and Ozelle Edwards Reid.
Lynne furthered her education by obtaining a Master's Degree in Nursing. She was Director of Emergency Services at St. Mary's Hospital in Athens, Ga., where she was able to use her compassion to care for others.
She was a lady of faith and an active member of Wesley Memorial United Methodist Church. Lynne was always up for an adventure, she loved to travel and enjoyed the beach. Most of all, she adored her family and spending time with her sisters.
Left to cherish her memory are her beloved husband of 51 years, Gus Asprogiannis; sisters, Wanda Edwards, Judy Goins (Bill), Carlene Berryman (Joe) and Sue Reid; numerous nieces and nephews; and other loving family and friends.
A graveside service will be held at 2 p.m. on Sunday, March 21, 2021, at Harmony 110 City Cemetery, City Cemetery Loop, Harmony, NC 28634.
In lieu of flowers, memorials may be made to Wesley Memorial United Methodist Church, 825 Wesley Drive, Statesville, NC 28677.
Please share condolences with the family at www.nicolsonfunerals.com.
Nicholson Funeral Home is serving the family.