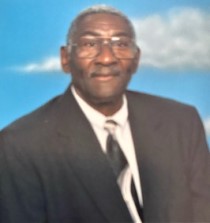 Deacon Samuel Alonzo Mott, 81, of 302 Winchester Road, Troutman, N.C., was born in Iredell County on April 25, 1939, and was the son of the late Bishop James Mott and the late Overseer Naomi McDowell Mott. He departed this life on Wednesday, March 17, 2021, at the Gordon Hospice House in Statesville, N.C., following an extended illness.
He attended Unity High School, and graduated from Morningside High School, Class of 1959. He was a great basketball player during high school and played with the Red Raiders. Sam was the assistant director at Garfield Recreation Center, worked at D. Matt School as an assistant basketball coach, at Black and White Knitting Mill and J. C. Penny Warehouse.
He was united in marriage for over 30 years to Rena Gay Johnson Mott. In addition to his parents, he was preceded in death by a son, Wilber "Lil Whip" Setzer; a sister, Bernice (Louis) Brown; two brothers, Dalton Mott and Franklin Mott; and his first nephew, David Mott.
Samuel was ordained a Deacon at First Greater Living Missionary Baptist Church, and later joined New Life Missionary Baptist Church, where he continued his spiritual work.
He leaves to cherish the memory of his life his loving and devoted wife, Gay J. Mott of the home; a sister, Linda Hammons of Statesville; a brother, Furman (Ann) Mott of Statesville; his children, Bryant Keith Setzer, Torie Lynn Setzer, Tyrale (Bridgette) Setzer, Trinetta (Sly) Setzer, Teresa Setzer, Chrystal Pass and Lisa (Ben) Lawrence; seven granddaughters; six grandsons; six great grandchildren; a host of nieces, nephews, cousins, other relatives, The New Life Missionary Baptist Church Family, neighbors and friends.
Eternal Life Is God's Reward … Grace and Glory to God!
Celebration of Life Services will be conducted on Sunday, March 21, 2021, at 1 p.m. at New Life Missionary Baptist Church in Troutman, N.C. Bishop Deborah Walls will officiate and Reverend Ivan Cowan, Pastor of New Life Missionary Baptist Church, will officiate. Burial will follow on Monday, March 22, 2021, at 11 a.m. at the Iredell Memorial Park.
Visit the Book of Memories for Deacon Mott at www.rutledgeandbigham.com.
Rutledge and Bigham Funeral Home is serving the Mott Family.