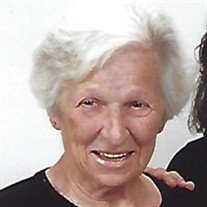 Mrs. Rella Louise McDaniels, 86, of Statesville, N.C., died Monday, April 19, 2021, at Iredell Memorial Hospital. Born in Iredell County on May 15, 1934, she was a daughter of the late Burl Johnson and Belva Walker Johnson.
Louise was retired as the director of the Iredell County Board Of Elections. She was an avid political watcher and enjoyed gardening and crafts and time with grandchildren.
In addition to her parents, she was preceded in death by her husband, Paul McDaniels, and a daughter, Mary McDaniels.
Survivors include two sons, Eric McDaniels and Paul McDaniels Jr.; a brother, Larry Johnson (Carolyn); four sisters, Barbara Jolly, Nancy Redman (Sam), Martha Hartley (Ray) and Jean Parker (Tommy). Also surviving are four grandchildren, Maryam McDaniels, and Jaden, Alison and Emily McDaniels.
Graveside services are scheduled for 11 a.m. on Friday at Iredell Memorial Gardens.
Condolences may be sent online to the family to www.nicholsonfunerals.com. Memorials may be given to Hospice & Palliative Care of Iredell County, 2347 Simonton Road, Statesville, NC 28625.
Nicholson Funeral Home is entrusted with the arrangements.