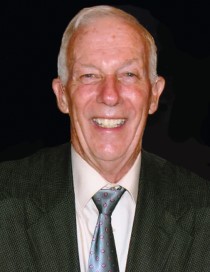 Rev. James Allen Morgan, 80, of Statesville, N.C., was welcomed into Heaven by his savior Jesus Christ on Sunday, May 9, 2021, at Gordon Hospice House. He was born on September 7, 1940, in Edison, Ohio, to Albert and Dorothy Morgan.
Pastor "Jim" Morgan was retired from more than 30 years of ministry as the senior pastor at Command Baptist Church in Statesville.
He was preceded in death by his parents, and survived by his wife of 60 years, Linda Fisher Morgan; children Matalie Howard (David), James "Jim" Morgan (Dayna), Phillip "Phil" Morgan (Debbie), and Rita Fleming (Alan); and eight grandchildren, Jonathan, Molly, Anna, Paul (Charity), Rebekah, Peter, Luke, and Clara. He is also survived by two brothers, Dale Morgan (Barbara) of Ohio and Gary Morgan of Florida; as well as several nieces and nephews.
Raised in Kilbourne, Ohio, he attended Ashley High School and graduated as salutatorian of his class. He and Linda married in 1960, when they were both 20. He was working at Dennison Tool & Die when a co-worker, Herman Jackson, after faithfully witnessing to Jim for some time, invited him to a revival meeting at the Eastside Mission. He and Linda attended the revival, were forced to sit in the choir loft due to an overflow crowd, and gave their lives to Christ. After the births of their three oldest children, Jim was called by the Lord to ministry. He and Linda packed up all they owned into a 1970 Ford Econoline van and an Airstream trailer and they moved to Lynchburg, Via.. Jim spent the next four years earning a bachelor's degree in pastoral studies at Liberty Baptist College, now known as Liberty University. He was in the fifth class to finish at Liberty, and graduated summa cum laude. Upon graduating, he came across a job posting in the Sword of The Lord, a Christian periodical, for a high school teacher. The school was at Southview Christian School in Statesville. He taught math, history, and Bible classes at Southview, along with coaching basketball and serving as a mechanic for the school and church buses. In 1980, a senior pastor position opened at Command Baptist Church, and thus began the 30 most beautiful years of his life.
Jim was burdened for Statesville. He prayed for this community constantly and pastored and counseled many of its citizens. During his time at Command, it became the first church in Iredell County to host AWANA clubs, which touched the lives of countless local children. During the 1980s, '90s, and '00s, he helped organize three citywide crusades in conjunction with Evangelists Bill Pennell, Mike Pelletier and Dave Kistler. He was a board member for Child Evangelism Fellowship and the Pregnancy Resource Center of Statesville. He went on many mission trips to Mexico and Colombia, preaching a holistic gospel through acts of service to impoverished communities and teaching about God's love. He was close friends with other pastors in Iredell, meeting with them regularly to pray for each other and their ministries. He was incredibly loved and respected by his congregation, but maintained a deep spirit of humility and servant leadership. After his retirement from Command in 2010, he led a Bible study at the Plaza apartment building for seniors, as well as serving as interim pastor at Vashti Baptist Church and Eastside Baptist Church. He will be remembered for the way he cared for each individual member of his church, his sincere kindness, his constant gentleness, and his habit for grabbing your hand and praying for you out loud in the middle of the grocery store. He never met a new acquaintance without asking them in earnestness and love: "Do you know Jesus as your savior?"
Jim was a wonderful and faithful husband, father, and grandfather. God was always first in his life, but his family was a close second, and they wouldn't have wanted it any other way. He attended so many high school ball games, plays, and recitals. He proofread papers. He solved minor plumbing issues. He changed a lot of oil in a lot of cars. He helped install signage. He flew across the globe a couple of times. He loved his family. He was a fierce New York Yankees fan from childhood, and sometimes a tear would slip down his cheek after an especially hard-earned win. He loved to play golf with his "Linda Dale," and their beloved Schnauzer Ginger often rode along in their cart. He enjoyed working with cars, and he and Linda were notorious for buying a junker, fixing it up, and flipping it. He loved to read, but also loved to nap, which was usually subsequential to the reading. Our city and our world is a better place because of the beautiful life that Jim Morgan led, and he would insist that all the glory garnered for it go to his King Jesus.
A service celebrating his life will be held on Wednesday, May 12, at 4:30 p.m., with visitation preceding the service at 3 p.m., at Command Baptist Church, with Reverend Tony Fox, Reverend Alan Fleming and Reverend Jake Potter officiating. A graveside service will follow on the grounds of Command Baptist Church.
In lieu of flowers, donations may be given in his honor to Our Daily Bread Ministries (donations.ourdailybread.org).
Troutman Funeral Home is serving the family.