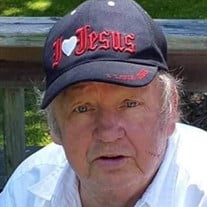 Rev. Terry Eugene Martin Sr., 75, of Mooresville, N.C., passed away on Sunday, October 31, 2021. He was born on October 21, 1946, in Premier, W.Va., to the late William "Bill" and Lillian Burbert McBrayer.
He is survived by his loving wife of 54 years, Ilene Smith Martin; children, Terry Martin Jr. (Wanda), Shane Martin (Kim), and Fred Martin (Tricia); surviving brother, Tinker McBrayer (Valerie); grandchildren, Danielle Martin, Amber Bowles, Shana Martin, Rebekah Jones, Haylie Martin, Sam Martin, Aaron Martin, and Adam Martin, grandson-in-law Allen Bowles; six great-grandchildren, Presleigh Bowles, Remy Mann, Bryn Jones, Camryn Jones, Harlee Bowles, and Welles Jones.
In addition to countless nieces and nephews, Terry had a large and loving church family. His true work was ministry. Everywhere he went. He never met a stranger. He was a retired coal miner, and a hard worker. He enjoyed his family, and witnessed for Jesus any chance he got. He was a pillar in the community.
He lived a full life, many times battling severe sicknesses. But now, he battles no more. He has made Heaven his home and wouldn't want grieving. In the words of Terry Martin, "I'm just going to throw this out there, you better find Jesus before it's too late."
Funeral services will be held at 12 noon on Friday, November 5, 2021, at House of Prayer of Faith, Cleveland with Pastor Teddy Ogle officiating. Burial will follow the service the church cemetery. The family will receive friends from 7 to 9 p.m. on Thursday, November 4, at the church.
Cavin-Cook Funeral Home, Mooresville, is serving the Martin family. Condolences may be made to the family at www.cavin-cook.com.