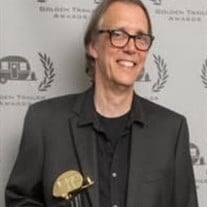 Stephen Hull, legendary movie trailer producer, passed away on October 26, 2021, in Mooresville, N.C.
He is survived by his wife Onnie; his children, Stephanie, Christian, and Kristi; his grandchildren Taylor, Alexis, Connor and Kiera; and his brother Walter.
Born in New York City on August 6, 1951, he spent his formative years in Tenafly, N.J. After graduating with a degree in communications, he entered the advertising field and remained lost there for the next 48 years. Starting in the 1970s, his innovative word play and direction led the vanguard of change in how movies were advertised, evolving the film trailer from its stale "coming attractions" state into award-winning entertainment pieces in their own right.
His greatest passion was always for music. From writing satirical songs in high school, he grew to be a composer of spiritually uplifting music with precisely structured and truly poetic lyrics that were better than we deserved.
He will be remembered most for his kindness, genuine concern for others, and ability to make us each feel like we were better people than we really are.
A Celebration of Steve's life will be held at 1 p.m. on Sunday, November 7, at the Heritage House of Cavin-Cook Funeral Home, Mooresville.
Cavin-Cook Funeral Home & Crematory, Mooresville, is serving the Hull family. Condolences may be made to the family at www.cavin-cook.com.