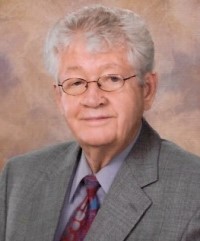 Richard William Daniels, 89, of Statesville, N.C., passed away on Tuesday, May 11, 2021.
Richard was born on March 16, 1932, in Statesville, and was the son of the late Boyd "Bud" William Daniels and Eva Hopkins Daniels. He attended Statesville High School and served in the U.S. Air Force during the Korean Conflict as a member of the Military Police.
He was married for nearly 50 years to the late Frances Poole Daniels, who passed away in 2006. He was a long-time member of Western Avenue Baptist Church, where he was a member of the Board of Deacons and served on church committees, including the building committee.
Richard was the owner and operator of Statesville Glass & Mirror. He enjoyed his Lake Norman summer home, boating and fishing, hunting and golf. Most of all "Pop" loved his family and many friends.
He is survived by two daughters, Terri D. Gibson (Garry) of Statesville and Vicki Daniels of Statesville; four grandchildren, Daniel Daniels (Amanda), Amelia Gibson (Matt), Jay Gibson, and Laticia Averitt (Eric); seven great-grandchildren, Carolyn, Megan and Mallory Daniels, Aubrey Gibson, Levi and Emma Pearl Carter, and Frankie Averitt; and one brother, Steve Daniels (Joan).
In addition to his wife and parents, Richard was preceded in death by one brother, Frank Daniels, and one sister, Eva Neil Daniels Gryder.
Graveside funeral services will be held at 2 p.m. on Friday, May 14, 2021, at Oakwood Cemetery in Statesville with the Rev. Dr. Jeff Spry officiating. Full military honors will be conducted by the U.S. Air Force and the Iredell County Veterans Burial Detail.
The family would like to give special thanks to Melinda Hayes and Joe Wieland for their love, care and friendship.
Memorials may be made to Gideons International.
Troutman Funeral Home is serving the family.