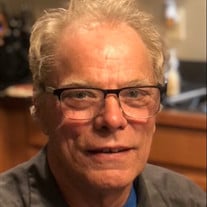 Robert Allen Keselowski of Mooresville, N.C., passed away peacefully on Wednesday, December 22, 2021 at his home, surrounded by friends and loved ones. Bob was born August 1, 1951, in Rochester, Mich. He was the adored youngest son of Roberta Chere Keselowski (Hammel) and John Keselowski.
Bob leaves behind his brother Ron, and sisters Beverly (Lubinski) and Patricia (Rohlman); the mother of his children, Kay Keselowski; sons Brian Keselowski (Jen Calendrillo) and Brad Keselowski (Paige); daughters Ginger Hoffman (Harry), Kathy Samborski and Esther Dawn Franck (Dave Brandt); grandchildren Merrissa Hoffman, Reanna Samborski, Kristina Samborski, Tristin Inscho, Garrett Hoffman, Kyle Graham, Scarlett Keselowski and Autumn Keselowski; many nieces, nephews, cousins and friends; his dog Millie who brought him so much joy; and his dear friend and neighbor, April Brogan, who cared for him and Millie in the last years of his life.
Bob, aka the "Black Bandit," was a fierce racer and the hardest working man in any shop, from Auburn Hills, Mich., to Mooresville, N.C. Having grown up in a racing family, Bob's interest in racing began at a young age, building and running home-made box cars and snowmobiles. He and his brother Ron raced as a team, with Ron building engines and Bob driving, throughout the Midwest and across the country. Their successes in the local short track circuits translated to a long run and Championship in the ARCA series. They fielded trucks in the NASCAR Truck Series for 11 years, with Bob driving for six years and crew chiefing for seven more. In his later years, Bob set records in Land Speed cars and focused on guiding his sons in the racing world. Known as a firm but kind-hearted and generous man, he influenced many in the racing industry and was always there to offer guidance and advice.
Bob had a heart of gold. If you were one of the people he cared about, he cared about you deeply. This sometimes meant you would get a good-natured ribbing, and sometimes it meant you would get a life lesson whether you wanted it or not, but you always knew that you were a special person if you had a relationship with Bob Keselowski. While he was often quiet and reserved with his emotions, he showed his love in many subtle ways, and those who loved him knew just where to look for that mischievous smile or that comforting presence. If you know how Bob takes his coffee or if you had a nickname from him, you're probably on this list.
Visitations will be held at Cavin Cook Funeral Home, 494 E Plaza Drive, Mooresville, NC 28115, on December, 23, 2021, from 6 to 8 p.m. and at Potere-Modetz Funeral Home, 339 Walnut Boulevard, Rochester, MI 48307, on January, 4, 2022, from 4 to 8 p.m. Bob will be buried at the Van Hoosen Jones Stoney Creek Cemetery in Rochester, Mich., on January 5, 2022, at 11 a.m.
In lieu of flowers, the family requests that donations be made in memory of Bob Keselowski to Save the Salt Foundation at www.savethesalt.org.
Cavin-Cook Funeral Home & Crematory, Mooresville, is serving the Keselowski family. Condolences may be made to the family at www.cavin-cook.com.