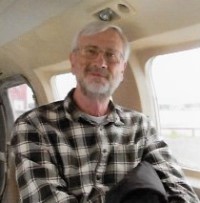 On Saturday, August 7, 2021, Robert Tanczos, 71, peacefully passed away at home surrounded by family after battling pancreatic cancer.
Bob was born February 20, 1950, in Danielsville, Pa., to Robert and Anna (Stubits) Tanczos as the eldest of five children. He attended a four-room parochial school for grades 1-8. The family then moved to Cobleskill, N.Y., when Bob began high school.
He studied Engineering Science at State University of New York College at Dehli, then transferred to Cornell University for his Bachelor's and Master's Degrees in Mechanical Engineering. For his master's project, he was on a team that worked on a prototype of the Mars Rover, funded by NASA. Bob's portion was the braking system, which used regenerative braking, similar to what you'd find on Tesla vehicles today.
Throughout his career, Bob worked on a wide variety of technical projects, including infinitely variable transmission for a garden tractor with Fafnir Bearing in New Britain, Ct.; typewriters with Smith Corona in Cortland, N.Y.; aseptic packaging with International Paper in the RTP, N.C.; Surgical devices with Weck in Durham, N.C.; aseptic packaging with Evergreen Packaging in Cedar Rapids, Iowa; and most recently at Fischbein LLC in Statesville, N.C., where he was the Engineering manager and worked on industrial sewing devices to seal large bags until his retirement. Over the years he has been a mentor for several co-workers, many of whom have reached out to Bob in recent months to tell him how he impacted their lives and careers.
Bob met Carol while they were both enrolled at Cornell University in 1972. Not long after, they became engaged and married after Carol graduated in July of 1974. Their family includes two daughters, Suzanne and Melinda. Bob was so proud of his daughters, who both entered into technical and science related careers. Throughout Bob and Carol's 47-year marriage they enjoyed spending time with family and traveling. Visiting National Parks provided particular enjoyment – appreciating the varied landscapes, wildlife and nature. Between travel for work and pleasure, Bob has been to all 50 United States and 16 foreign countries.
A title he especially loved was being called Papa by Michael, Everett and Henry. His three grandsons kept him on his toes while they told him stories, asked him questions and used him as a jungle gym. Bob shared a unique relationship with each of the boys, connecting with them on topics they both enjoyed.
Bob had many interests and hobbies. He was a lifelong follower of NASA and the U.S. space program, enjoyed watching a variety of sports and kept active playing volleyball and softball into his 50s. He especially liked going up against a guy half his age and beating him, but when it took all week to recuperate the sore muscles for the next game, he decided it was time to stop playing.
Bob was preceded in death by his mother, Anna; father, Robert; brother, Dennis, sister-in-law, Nancy Whitney; and son-in-law, Thomas Bleakley.
He is survived by his wife Carol of Statesville, N.C.; daughter, Suzanne Bleakley; and grandson, Michael of Cary, N.C., daughter, Melinda Sullivan and husband Donald; and grandsons Everett and Henry of Raleigh, N.C.; siblings, Jeffrey Tanczos and wife Jolene Cerullo of Mt. Wolf, Pa., Annette Kacerik and husband Richard of Hellertown, Pa.; and Dianne Condon and husband William of Springfield, Pa.; brother-in-law, Joseph Whitney of Jefferson, Md.; and brother-in-law Alan Hubbell and wife Valerie of Pennelsville, N.Y. Also surviving are nieces and nephews, Gregory, Angela, Christopher, Camille, Olivia, Alison, Kyle, Jill, Amy, Jana, Stephen, Danielle and Alaina; along with numerous extended family members.
A Celebration of Life will be held at Troutman Funeral Home, Troutman, N.C., on Saturday, August 21, 2021. Family will greet friends from 12 to 1 p.m. with a service following at 1 p.m. Memorial donations can be made in Bob's name to Iredell County Hospice and Palliative Care, 2347 Simonton Road, Statesville, NC 28625.
Online memorials can be made to the family at www.troutmanfuneralhome.com.
Troutman Funeral Home is serving the family.