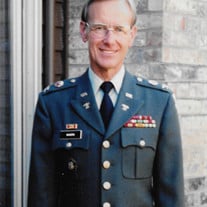 Long-time resident of Gig Harbor, Wash., Colonel Robert W. (Bob) Wagers, U.S. Army (Ret.), went to be with his Lord on Saturday, October 16, 2021 in Mooresville, N.C. Born May 25, 1929, in Salem, Oregon, Colonel Wagers was a veteran of 32 years active service — service that saw him go from Private E-1 to Colonel 0-6 and serve in such diverse places as Panama, Iran, Germany, Vietnam and Canada. His awards included the Legion of Merit with two Oak leaf Clusters and the Bronze Star, Meritorious Service Medal and Army Commendation Medal, each with one Oak Leaf Cluster. He served in Vietnam as a Battalion Commander, followed by two tours in the Pentagon. His final duty station was at the Presidio of San Francisco, where he commanded the U.S. Army Logistics Control Activity.
A graduate of Salem Senior High School in Salem, Oregon, Colonel Wagers' education included a B.A. from Park University in Parkville, Missouri, an M.S. from George Washington University in Washington, D.C., and several senior service schools to include the Command and General Staff College, Armed Forces Staff College and the Industrial College of the Armed Forces.
Colonel Wagers retired in 1981 and almost immediately joined the Gig Harbor Lions Club. In that capacity he served as president three times, zone chairman and district governor. In 2008 he was recognized as the Gig Harbor/Peninsula Area Chamber of Commerce Citizen of the year followed by recognition in 2013 as an Outstanding Eagle Scout. In 2006 he was presented with the Voyager Elementary School Community Service Award where he was a volunteer in the fourth grade classroom of Mrs. Robin Dower for 15 years.
An active member of Chapel Hill Presbyterian Church, Colonel Wagers served as an elder, chairman of several Pastor Seeking Committees and chairman of the Long Range Planning Committee that resulted in the design and building of the current sanctuary. In his spare time, Colonel Wagers was an active member of the Alexander Hamilton Chapter, Sons of the American Revolution.
Colonel Wagers leaves behind his loving wife, of 42 years, Shirley; two daughters by a first marriage, Robin Wagers and Pamela Accaria; two step daughters, Kathryn Lewi and Karen Cropper; step son-in-law, Brian Cropper; and five Cropper grandchildren.
Proceeding him in death were his parents, Phebe and Robert Wagers; and a younger brother, Glen Wagers.
An admirer of classic and collector cars, Colonel Wagers amassed an extensive collection of 1/18 scale cars that included most of the cars that he admired. His travels included many car collections, shows, and races to include the 1965 and 1966 24-Hours of LeMans.
Services for Colonel Wagers will be held at 11 a.m. on Monday, October 25, at the Salisbury National Cemetery, Salisbury, N.C.
In lieu of flowers, it is requested that donations be made to the Gig Harbor Lions Club Foundation, P.O. Box 331, Gig Harbor, WA 98335.
Cavin-Cook Funeral Home & Crematory, Mooresville, is serving the Wagers family. Condolences may be made to the family at www.cavin-cook.com.