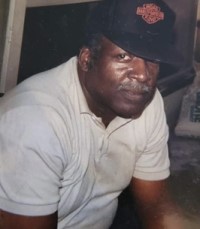 Mr. Roland Marion "Boogie" Johnson, 85, of 1907 Fifth Street, Statesville, N.C., passed away at Davis Regional Medical Center in Statesville on Tuesday, August 31, 2021. He was born in Iredell County on March 6, 1936, and was the son of the late Ollie Fred Johnson Sr. and Eugenia Young. He was raised by his grandmother, the late Ethel Young. He was married to Margaret Blackmon Johnson, who preceded him in death.
In addition to his parents, grandmother, and wife, he was also preceded in death by sons, Charles Bernard Johnson and Kenneth Johnson; a step-son, Scottice Ray Blackmon; stepmother, Mamie Bruner Johnson; brothers, Ollie Fred Johnson Jr. and Harold Lee Johnson; and a sister, Vivian Johnson.
Boogie was a graduate of the class of 1954 Unity High School and at one time was employed by John Boyle Company and also the Statesville Auto Auction. He was a self-taught mechanic and would fix his own cars. He loved to tell you about Belmont history, current events and other history. He was a diehard NASCAR fan and Ford man.
He leaves to cherish the memory of his life two sons, Lawrence (Denise Briggs) Johnson of Philadelphia, Pa., and Thomas Blackmon of Salisbury, N.C.; two daughters, Debbie Johnson of the home and Joyce (Dennis) Mitchell of Statesville; one brother, Gerald (Christina) Johnson of Statesville; two sisters-in-law, Vinnie Mae (Robert) Knox of Cleveland and Laura Spaulding of Philadelphia, Pa.; grandchildren, Ebony (Tobias) Daniels of Melbourne, Fla., Marcus Johnson of the home, Jeri Holder of Statesville, Lawrence Stower of Philadelphia, Pa., Shandell Stower of Philadelphia, Pa., Erica Glaspy of Statesville, Kendrick Williams and Karen (Tyrekus) Williams, both of Mint Hill, N.C., Scottice Griffin and Crystal Griffin, both of Philadelphia, Pa., Amy Smith of Pittsburgh and Joshua Ramseur of Harmony, N.C.; a great grandchild, Justin Johnson, who was reared in the home, Brittany Holder, Yasmine Holder, Debrasha Holder, Shahiedan Stover, Yakira Stover, Breyell Stover, Yasir Stover, Yuri Stover, Ariel Johnson, Takaia Williams, Tinsley Williams, Koren Williams, Tanya Brown, Tanyiesha Glaspy, Jaylen Williams, Keandre Williams, Kendra Williams, Andrew Smith, Aiden Smith, Ayanna Snith and Brain Davis Jr.; great-great grandchildren, Valarie Johnson, Justin Johnson Jr., A'Mari Simpson and Swailon Tucker Jr.
Celebration of Life and Graveside Services will be conducted Sunday, September 5, 2021, at 1 p.m. at the Belmont Cemetery.
General Public viewing will be held at Rutledge and Bigham Funeral Home on Saturday, September 4, 2021, from 3 until 7 p.m.
Visit the Book of Memories for Mr. Johnson at www.rutledgeandbigham.com.
Rutledge and Bigham Funeral Home is serving the Johnson Family.