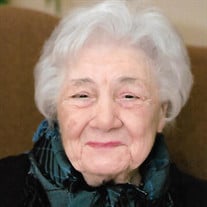 Rose Siracusa Hollis, 95, passed away peacefully on July 16, 2021, at Brookdale Peachtree Assisted Living in Statesville, N.C. She was born April 25, 1926, in New York to Giuseppe and Giuseppina Varca Siracusa. She married Robert "Bob" Joseph Hollis on August 20, 1955.
In her younger years, Rose enjoyed working in jewelry sales and repair. After moving to North Carolina, she was employed at the Youth Center and retired from JCPenney at Hanes Mall in Winston-Salem. She enjoyed sewing, crocheting and making afghans for her family. Rose also enjoyed canning vegetables from the garden and cooking Italian dishes.
She was preceded in death by her husband Bob in 1987 and son, Vincent Joseph Hollis, in 2001. She is survived by her four daughters and their spouses, Louise and Don Wooten of Harmony, N.C., Linda and Richard "Sonny" Boggs of Winston-Salem, N.C., Patricia and Chuck Stone of Wilmington, N.C., and Joanne and Emory Brown of Farmington, Ark.; eight grandchildren, Gina Wooten Reid, Jimmy Wooten, Valerie Wooten Alexander, Bob Stone, Janelle Stone, Michael Stone, Nicholas Hall and Kristy Hall; nine great grandchildren and many nieces and nephews. She loved and was loved by all of her family.
A private service celebrating her life will be conducted on Tuesday, July 27, 2021.
A special thanks to the staff at Brookdale Peachtree Assisted Living and Hospice of Iredell County.
In lieu of flowers, please donate to Iredell County Senior Center, 344 E. Front Street Statesville, NC 28677 or Forsyth County Meals on Wheels, 2895 Shorefair Drive NW, Winston-Salem, NC 27105.
Nicholson Funeral Home is serving the family.