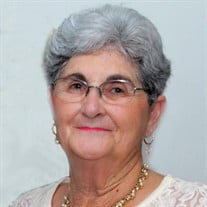 Sandra "Sandy" Maxine Fleming McRacken of Statesville, N.C., passed away on December 1, 2021.
She came into this world with a "rather rowdy" arrival in the front bedroom of her grandparents' house just outside of Troutman, N.C., on October 4, 1942 – the daughter of the late Earl Whren Fleming and Florence E Martin.
In addition to her parents, she was preceded in death by her sister, Patricia Lackey; daughter in-law, Anita McRacken, and a number of her dear friends in recent months.
Sandy is survived by her husband of nearly 58 years, James A. McRacken Sr.; two sons, James McRacken Jr. (Tina), and Mark McRacken; daughter, Candice McRacken Britt (Matthew); and five grandchildren, Brianna, Andrew, Molly, Megan, Caroline.
Sandy was a graduate of Troutman High School and Appalachian State Teachers College (now Appalachian State University), where she proudly portrayed the Mrs. Yosef mascot amongst her other endeavors and studies.
Sandy spent over three decades as a full-time educator, first at Pembroke State and Rowan County, with a pause early in her career to move to Augsburg, Germany, for a year and join her husband who was stationed there in the U.S. Army. Half a century later, she still shared fond stories of her days living in Europe. For more than 28 years Sandy worked as a Health and Physical Education Teacher at D. Matt Thompson Jr. High in Statesville. She finished her teaching career at Statesville Middle School – and even after retirement, she returned to education as a Literacy Facilitator for close to a decade at Third Creek Elementary. Each year of teaching was a revelation for her, full of eye-opening adventures, many treasured students and wonderful colleagues.
She was an avid sports fan, including all things Carolina Tar Heels and Appalachian Mountaineers, Detroit Lions and Carolina Panthers, and the World Series Champion Atlanta Braves. She was a peerless storyteller; a dedicated volunteer including H.E.L.P. Ministries and PGA Tour events; and a beloved wife, mother, daughter, sister, grandmother, "beautiful Aunt Sandy," neighbor and friend.
Sandy was a pillar of the community at New Perth ARP Church, where a Visitation and Service of Life will be held beginning at 12:30 p.m. on Tue. Dec. 7.
Donations may be made in Sandy's name to H.E.L.P Ministries of Troutman, P.O. Box 151, Troutman, NC 28166 or online at www.hmtroutman.com.
Online condolences may be made to the family at www.nicholsonfunerals.com.
Nicholson Funeral Home is serving the family.